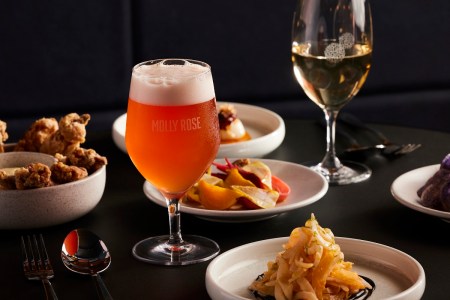 Molly Rose Brewing's amplified Collingwood home has opened to the public where a tripling of its footprint reveals a heightened focus on food, one of the biggest beer gardens in their neighbourhood plus plenty more.
And come Winter they'll unveil their intimate 20-seat "Chef's Table" dining area that will elevate their offer even further, where founder Nic Sandery's beers and chef Ittichai Ngamtrairai's food will meet in a multi-course pairing experience.
After securing the lease of the adjoining two buildings in 2021, Nic told Beer & Brewer the significant expansion of the former venue has allowed them to "spread their wings" while continuing to serve up the same fundamentals of good hospitality they always have since opening on Wellington Street in 2019.
"I had no idea we would end up with something like this," Nic said. "It was never the goal to expand our current site and make this kind of offer. But I'm really proud of what we've put together.
"We did always have a goal of having an elevated food offering somewhere with a full kitchen where we'd pair food to our beers. I just didn't know what shape that would take. When the lease came up next door, we jumped on it.
"The fact that we've got more on the table so to speak now won't come as a surprise to anyone who knows us really well though.
"We're still just doing the Molly Rose thing – of doing the best with what we've got. We've taken an opportunity that was presented to us and tried to do the best with it."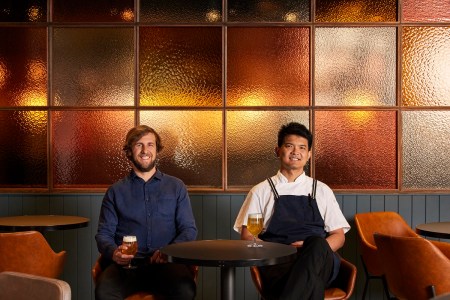 That journey included delays in the construction phase due to the structural, or lack thereof, nature of the century-old former residential building they've expanded into.
But Nic said acclaimed interior design architect Samantha Eades and her Mitchell & Eades team made the "absolute most of the space" in a way that captures the essence of Molly Rose and carries it over from your familiar neighbourhood brewery venue to one with an emphasis on complete hospitality.
Alongside nine taps dedicated to Nic's diverse range of beers, that hospitality includes a guest tap for Melbourne's Black Arts Brewers and Blenders for the foreseeable future while large and small format packaged beers from both breweries are available too. These are complemented in the new centrepiece bar's "concise, mostly Australian wine list (and) a crafted cocktails list".
Taking cues from the only Michelin-starred restaurant to have strictly paired their food with beer – Tørst in Brooklyn, New York – Nic said Molly Rose 2.0 would be an enhancement of "always doing things a little different" in an area where established breweries are part of the community's fabric.
"In Melbourne at the moment there are a couple of great restaurants like Attica and Atlas who are doing one or two courses with beer as a pairing. But there's no one doing six or seven on a consistent basis and showing how beer can do different things with food," Nic said, adding that a seven-course Molly Rose experience would maybe feature "a cocktail, a wine or a vermouth" paired alongside a range of beer styles.
While patrons will need to wait a little longer to experience that immersive food and beverage pairing Chef's Table as they get the concept "just right", the set menu gives a taste of what to expect from a traditional Italian-trained chef with roots in Thailand and experience in top Melbourne restaurants.
As well as being able to see the kitchen at work from the dining area, patrons will also be able to track their gaze over to Molly Rose's attractive new 300 litre pilot brewing kit that will ensure the theme of a working brewery is not lost amongst all that is new.
"(The chef) can come up and say 'look Nic, I've got these great mushrooms and I want to do them like this, can we brew a beer to go with that?'. Because we've got the pilot brewery I can go 'sure chef, what are we going to do?' and we'll brew a specific beer to go with that particular menu item.
"We are a brewery, we love good beer and making good beer and experimenting with it. The pilot system is a big part of the whole picture."
Molly Rose Brewing is at 279 – 285 Wellington St, Collingwood. Its new opening hours are:
Wednesdays & Thursdays 4pm – 10pm, Fridays & Saturdays 12pm – 1am, Sundays 12pm – 10pm (closed Mondays & Tuesdays).

---
We'll be heading back to Molly Rose in our upcoming Winter magazine to dish you up a definitive guide to the Collingwood Beer Trail in the second instalment of our continuing series of features on Australian brewery destinations. The first, which appears in our current Autumn edition, is on Sydney's famed Inner West Ale Trail. You can subscribe to our magazine here.