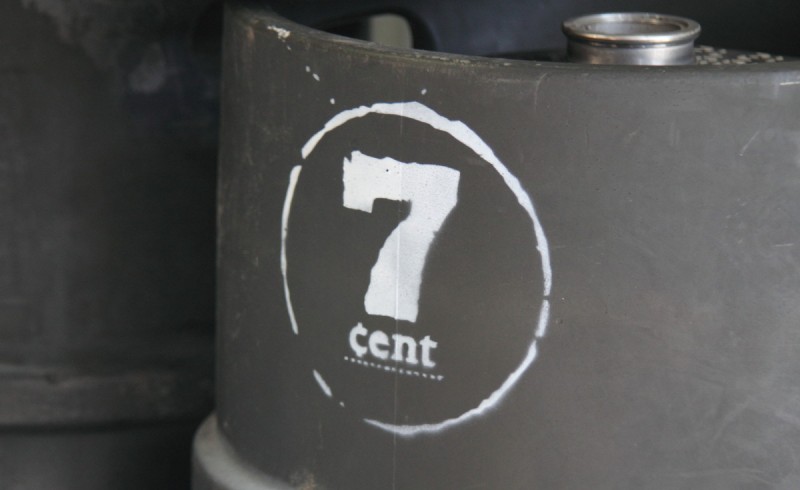 Love the name – what is the story behind it?
The story behind the name is a bit long winded. To sum it up we spent the night at the brewery with the hope of brainstorming up a name up. No name came up, so out of frustration we burned some old couches that needed disposing of. In the morning, amongst the ash and burnt springs, we dug out a handful of old 1 and 2 cent coins. These were obviously very old and been behind the couch a long time, one is dated 1966. The coins happened to add up to seven cents, and we decided to stick with it. The description on our website goes as follows:
After a long day ofconstruction at the brewery, we ended the daywith a sacrificialburningof old couches to please the beer gods and give them something to rest their drunken and weary behinds on. In the morning, along with a couple of sore heads, all that remained was a pile of ash, burnt springs and old 1 and 2 cent pieces that had been long lost eons ago down the back of the couches. How many coins were there you ask? A total 7 cents of course! In our bleary-eyed state this was a clear omen from the beer gods and a name was born
What inspired you guys decide to start a brewery?
A combination of things. For one we love making beer, of course we enjoy drinking beer also, but we get a real kick out of the process. We first got a taste for brewing in our uni days when we started home brewing. We very quickly evolved to brewing "all-grain" beers and started getting great feedback about our brews. We're all pretty passionate about beer and really wanted to be part of the craft beer scene growing in Victoria and Australia. The craft beer scene is really unique in that breweries don't compete, but support each other and there is a real sense of camaraderie. Who wouldn't want to be part of that?
Where there any brands that inspired you?
8 wired, Nogne, Mikkeller to name a few. Locally, Kooinda and Cavalier were brewery's that made us realise that you didn't need big operations and even bigger debt to start a microbrewery. That was backed up again by the inception of Moon Dog. The story that these guys have for their start up went a long way to encouraging us to make the decision to brew commercially.
Did you have professional advice or was it a 'learn as you go' experience?
We seeked some professional advice, we didn't want to be walking into it completely blind. In saying that we did most of it ourselves and we have definitely learnt a lot, not just about operating a brewery but also operating a business. The whole process of getting all the required permits and licensing was a real challenge and we certainly leaned a load going through that process.
How did you go about setting up your brewery? Is your equipment new or 'vintage'?
We have constructed the entire brewery ourselves. Most of the equipment is ex-dairy equipment that we have retro-fitted to be used for brewing purposes. It's a very low-cost, no frills brewery, main reason being we funded the entire brewery out of our own pocket. We call it our 'ghetto' brewery. We can now let the business grow organically and upgrade our equipment from its generated revenue, which allows us to operate the brewery with minimal risk and gives us the opportunity to experiment a bit.
How has the local community reacted to the news of your brewery starting up?
The local community has been extremely receptive to the news of the brewery opening up. We have had many questions and interest in the brewery asking about what we are doing. It's really great to have such support.

What will you be brewing and where will punters be able to get it?
We have three beers in our main line up, which are Whapping Wharf (a bold English style ESB), Hard Deck (a hoppy American style IPA) and B4 (a Belgian style Dark Strong Ale). In addition to our main line-up we plan on releasing one off, single kegs of beer each month. These will vary from beers with cherries, sour beers, beers with green tea, an 18% Barley wine, right down to a 3% Saison. The philosophy of the brewery is to brew beers that excite us, the kind of beer's we want to drink, if the drinking public decide to join us that's an added bonus.

Our beer will be on at a variety of places. At the moment have had beer at Penny Blue, Beer Deluxe, Deja Vu, The Gertrude Hotel, The Local Taphouse, The Terminus Hotel and Slowbeer. More venues are always asking for beer, so it's best to keep an eye out on Twitter, or our Twitter feed from the website.
What inspires you when it comes to creating recipes?
Anything, too often I'll find a new spice or fruit or something different and the thought always goes through my head, how could this be incorporated into a beer. When making recipes we always aim for big flavors, so we like to include a variety of ingredients that will cover the entire palate and be a joy to drink.
What do you hope to achieve with your brand?
We want to brew great beer and have a great time doing it, that's what we hope to achieve really. Brewing beer is something we really love and we really enjoy being part of the craft beer industry. We hope to grow the business to the point that it can be sustainable for all three of us to maintain full time work running, what is for us, is the dream job.