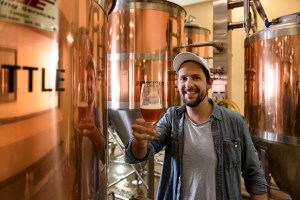 With the April Micro Brewing course from TAFE SA already fully booked, the growing popularity of craft beer and brewing is in full evidence.
The course has been held twice a year – in April and September – since September 2016 at TAFE SA's brewing facilities at Regency. It runs in two blocks of two weeks and covers commercial beer production from start to finish. Approximately 30% of the 14 students on each course are from interstate. Whilst there, they cover 17 units of competency, including food safety and quality, wort production, fermentation, beer maturation, filtration, labelling, packaging and cleaning. All the students graduate from the course.
"It's a compact delivery schedule in an excellent facility – the best teaching brewery in Australia," comments lecturer Stephen Nelsen. "The students get to make real beer that is legal, licensed, legit beer, which is then sold. People succeed in making better beer, more beer, getting jobs and starting breweries. Craft beer is booming and we see huge potential in creating a niche market in brewing."
The beer is produced under the Campus Brewery label and is sold on campus at Results Deli and Café, as well as specialist craft beer retailers around Adelaide.
"I've been home brewing for about four years and decided I wanted to take it further," says Jonny Bucknall (pictured) who travelled from Sydney to participate in the course, having previously completed a one-week Craft Beer Boot Camp at Regency campus. "I was looking at online forum and found out about the Craft Beer Boot Camp short course. That covered a bit of theory but didn't go too in depth on the science behind making beer, so I decided to follow on with the Micro Brewing course."
Since completing the course, Bucknall got a job at Modus Operandi in Sydney in January.
"It was an expense to come to South Australia to do this course but the knowledge and experience I have gained is invaluable and will no doubt help me in pursuing a career in the industry."
For more information about TAFE SA's Beer Brewing courses, visit tafesa.edu.au/courses/hospitality-tourism