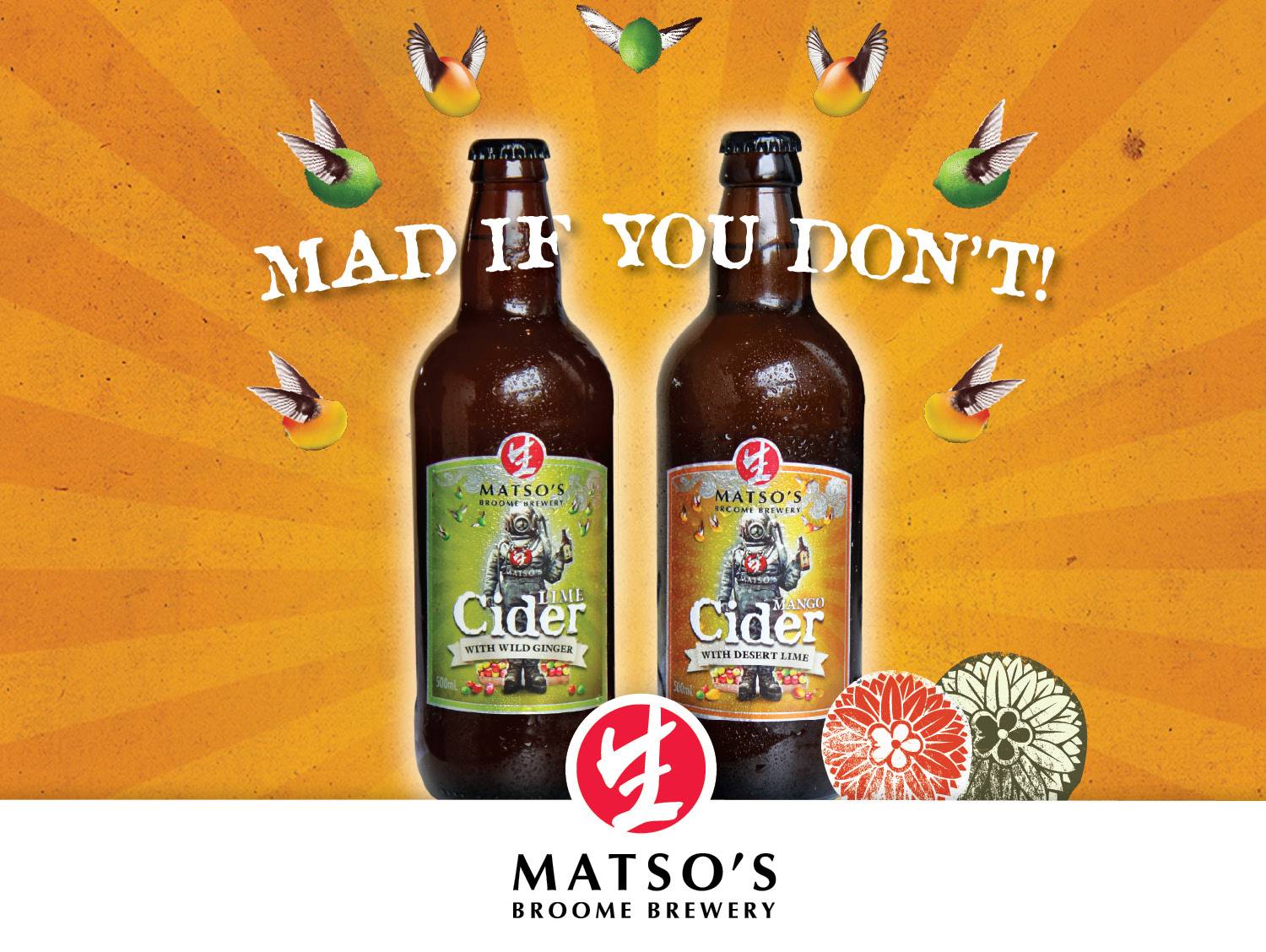 The brand behind Australia's favourite Ginger Beer – no trip to Broome is complete without a visit to their brewery – has finally bowed to peer pressure and created a range of ciders, set to drop just in time for the summer season.
And in true Matso's style, the team has put their own unique spin on the cider genre, teaming up with the producer of a little known native fruit – the desert lime – to create a truly unique Australian cider.
There are two flavours in the range and according to Justin Wiebrecht, Matso's Director of Sales & Marketing and creator of the new ciders, they are the result of nine months of research and development that involved a whole team of Matso's staff – even the ladies from the resort side of the business.
Working with what they knew, Wiebrecht started with adding mango to an apple cider base, but looking for a new, killer flavour profile he got in contact with Jock Douglas, the grower of a basically unknown fruit who had been pestering him for months to create trial brews with his desert limes.
"This guy just would not leave me alone," says Justin. "He was always at me to give it a try, and I'm really glad that he stuck at it. The flavour it adds, compared to normal lime flavour, is like comparing cheap supermarket cordial to the best homemade, earthy-flavoured, lemon-barley drink you can imagine."
And so their Mango Cider with Desert Lime was born, and was soon followed by a Lime Cider with Wild Ginger – a happy accident that occurred when a staff member mixed a jug of the Mango Cider with a jug of the brand's famed Ginger Beer. But rather than go for taste overload, the team stripped out the mango flavour to create the very refreshing and totally on trend ginger-spiked brew.
But while the 'cliff notes' version of the story makes the process sound simple, Wiebrecht is adamant that Matso's is extremely serious about their new product in terms of quality and uniqueness.
"I was being stirred up for over twelve months by mates who told me I was crazy for not getting into the cider market," says Wiebrecht. "And if we wanted to put out a standard cider it would have been pretty easy to get done. But we wanted to do the ground work and and testing. We really put our heart and soul into it."
It is this last sentiment that has seen Matso's go from strength to strength since it was purchased by Wiebrecht's in-laws back in 2000. Wiebrecht himself says the beer was pretty average when he first started out as the brewer but hard work, dedication and a little help from experts such as Peter Nolan and Bill Hoedermaker – both formerly of Sail & Anchor – has brought the brand to where it is today.
With the first batch of cider set to drop at the beginning of November, this will be one addition to the cider market that fans won't want to miss.