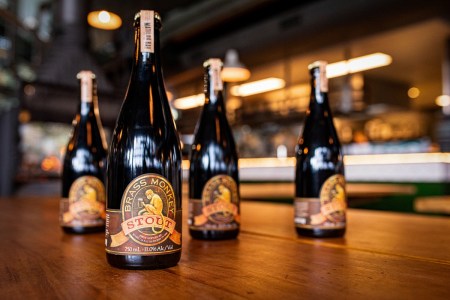 First brewed at Fremantle's Sail & Anchor Hotel back in 1986, Matilda Bay has reimagined and relaunched the Brass Monkey Stout.
Harnessing the brewery's Imperial Stout, which spent nine months in French oak wine barrels, the limited release 2023 Brass Monkey comes in at 11% and is being sold in 750ml bottles in select bottle shops in WA and Victoria as well as at Matilda Bay's Yarra Valley venue.
Head brewer Harry Sexton said: "In the Winter of 2022 we borrowed some French oak barrels from our friends across the road at one of the Yarra Valley's best wineries. We filled the barrels to the brim with our Imperial Stout and caressed them over the last nine months. It's a new take on an old recipe that has been handed down from head brewer to head brewer over the last 35 years.
"The French oak, still dripping in Cabernet and Merlot, gives this new Brass Monkey a burgundy tinge and subtle vanilla sweetness. The complex blend of dark malt combines to deliver rum and raisin chocolate, and toasted coffee notes followed by warm stewed fruit smoothness…the beer will also develop well with age."