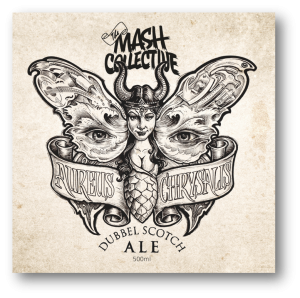 The Mash Collective have released their second brew, Aureus Chrysalis Dubbel Scotch Ale.
Brewed out of the Stone & Wood brewery, the brew is aBelgian Dubbel / Scotch Ale hybrid that weighs in with a healthy ABV of 6.5%.
According to the website, the name of the brew was "drawn from the amazing piece of art
produced by tattoo artist Trevor Bennett. Aureus (awr-ee-uhs) is Latin
for gold, but also for hop, and the Chrysalis (kris-ə-lis) refers to the
cocoon that gives birth to a beautiful creature" – or, like in the label art above, a lady with wings and horns.
With the collective team of beer nuts "inspired" by the traditional strong brews out of Belgium and Scotland, the beer is said to have "the faint whiff of a smoky highland fireplace across a rich Flemish fruit cake, iced with a spicy resinous marzipan".
The Mash Collective is a beer obsessed group made up of a chef, a tattoo artist, a
furniture maker, an engineer / homebrewer, and a musician