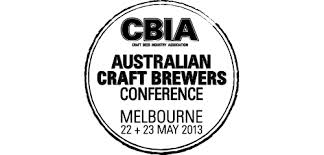 The CBIA has announced the line up for its first conference. It is to be held on Wednesday 22May and Thursday 23 May, during Good Beer Week, at the Melbourne
Lithuanian Club, located at 45-50 Errol Street, North Melbourne.
Curated by CBIA director Dave Bonighton (Mountain Goat) the topics are designed to appeal to all members of the craft brewing industry. With that in mind, Bonighton say that the CBIA wanted to appeal to more than just brewers.
"We are very
aware that we are an industry association rather than just a brewers' body so we
have tried to take a broader view of what the industry wants from an event such
as this," he says. "That said, we have not forgotten the technical
brewing and brewery management side of things and the programme features
presentations from respected names such as Peter Aldred, Shawn Sherlock and
Brendan Varis."
As such, topics such as selling to the trade, running tourist venues,
brewery finances and brand architecture will be covered in the course of the two days, presented by respected
industry figures including Nic Trimboli,
Howard Cearns, Angie Bradbury and Lyndon Waples.
Tickets for the CBIA Australian Craft Brewers' Conference will
be $100 for CBIA members and $150 for non-members (plus booking fees for both). This includes entry both days
and lunch catered by the Courthouse
Hotel.
Tickets will released CBIA mailing list members on Tuesday 23 April and to the general public (via the Good Beer Week website) Friday 26 of April.
For further information please
contact CBIA Executive Officer Chris McNamara on 0409 836 714 or
chris.mcnamara@australiancraftbeer.org.au
Programme Details
WEDNESDAY
22
MAY
9.30
REGISTRATION
9.45
WELCOME
10.00 THE IMPORTANCE OF WATER IN
YOUR CRAFT RECIPE FORMULATIONS
DR PETER ALDRED: Brewing Course
Co-ordinator, University of Ballarat
10.30 DOES MALT
SELECTION MAKE A DIFFERENCE TO YOUR CRAFT BEER?
SHAWN SHERLOCK: Head Brewer, Murray's Craft
Brewing Co
11.00 HOP ADDITION PRACTICES IN TODAY'S CRAFT
BREWERIES
TIM LORD: Managing Director, Hop
Products Australia
11.30 MORNING
TEA
11.45 THE CRAFT BEER SEGMENT BY THE
NUMBERS
KIRRILY WALDHORN: The Beer
Diva
12.15 EXCISE IS JUST ONE PIECE OF THE CRAFT BEER
REGULATORY PUZZLE
OWEN
JOHNSTON: Head Brewer, Moo Brew
CARALINE HILL: Client
Relationship Manager, Australian Taxation Office
12.45
SELLING CRAFT BEER ON PREMISE
WILLIAM
WILSON: Food & Beverage Manager / Sommelier, Sydney
Convention & Exhibition Centre
1.15
LUNCH
2.00 CRAFT BEER PACKAGING
PROCESSES AND THEIR COSTS
AARON HEARY: General
Manager Operations, Gage Roads Brewing Co
2.30 BREWERY
SAFETY PROCESSES EFFECT US ALL, JUST ASK WORK COVER
SUE BOTTRELL: Owner, Simple OHS
Solutions
3.00 AFTERNOON
TEA
PANEL DISCUSSIONS &
PARTICIPANTS
3.15 SOCIAL MEDIA AND THE RIGHT
CRAFT CONSUMER MESSAGE
3.45 THE COLD HARD SELL
OF CRAFT BEER TO THE INDEPENDENT TRADE
4.15 THE RISE OF INTERNATIONAL CRAFT
BEERS AND ITS FLOW ON EFFECT TO THE AUSTRALIAN CRAFT BEER INDUSTRY
ANGIE BRADBURY
Founder and Managing Director, Dig & Fish
ROSS
JURISICH Director, Stone & Wood Brewing
Co
JAMES SMITH Owner, The
Crafty Pint
JOHN COPE WILLIAMS Owner, Better
Beer Imports
BEN KRAUS
Owner, Bridge Road Brewers
LEIF
RYAN Director, Phoenix
Beer
4.45
FINISH
THURSDAY
23
MAY
9.30
REGISTRATION
9.45
WELCOME
10.00 SECONDARY FERMENTATION AND
BOTTLE CONDITIONING IN CRAFT BREWING
JEREMY HALSE: Head Brewer, White Rabbit
10.30
QUALITY MUST HAVES IN A CRAFT BREWERY LABORATORY
RON FERUGLIO: Owner, Temple Brewing
11.00
MODERN CRAFT BREWERY EQUIPMENT ON A BUDGET
JOSH ULJANS: Director, Moon Dog Brewing
11.30
MORNING TEA
11.45 THE IMPORTANCE OF A
NATIONAL ASSOCIATION
ERIC OTTAWAY: General
Manager, Brooklyn Brewery
12.15 ARE BEER STYLES IN OR OUT
OF STYLE?
JAMIE COOK: Director, Stone &
Wood
12.45 WHAT'S ALL THIS TALK ABOUT WINE BARRELS IN
CRAFT BREWERIES?
BRENDAN
VARIS: Owner, Feral Brewing
1.15
LUNCH
2.00 IS YOUR BREWERY TOURIST
DESTINATION TICKING THE RIGHT BOXES?
LYNDON WAPLES: CEO, Colonial Leisure
Group
2.30 FINANCIALS MADE EASY FOR THE
BREWER
NIC TRIMBOLI: Ex-Founder and Director,
Little Creatures
3.00 AFTERNOON
TEA
PANEL DISCUSSIONS &
PARTICIPANTS
3.15 BREWERY EXPANSIONS – DON'T
GET IT WRONG
3.45 GET YOUR BRAND ARCHITECTURE
& DESIGN RIGHT OR GET OFF MY SHELVES
4.15 WHERE TO FROM HERE FOR AUSTRALIAN
CRAFT BEER?
WARREN PAWSEY Head Brewer,
Little Creatures Geelong
HOWARD CEARNS
Ex-Founder and Director, Little Creatures
MATT
KIRKEGAARD Editor, Australian Brews News
JADE
FLAVELL Owner, The Wheatsheaf Hotel
COREY CROOKS Owner, The Grain Store
IAN
KINGHAM National Merchandise Manager, Woolworths
Liquor
Group
4.45 FINISH