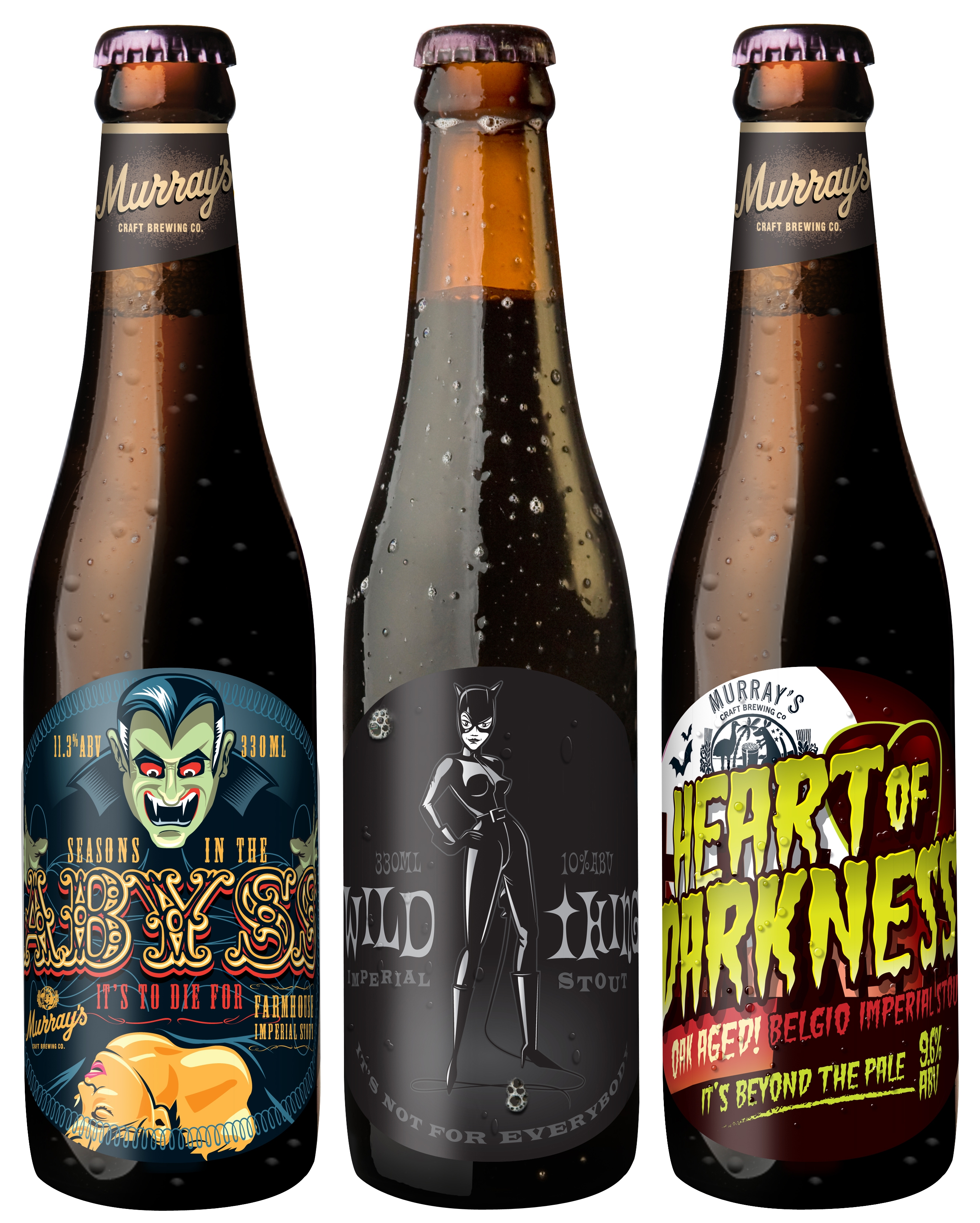 Stout fans rejoice. This winter is going to be considerably 'darker' with the announcement from Murray's that they will be celebrating this year's Dark Beer Month with the release of three Imperial Stouts in bottles – a daring Australian first.
"We've decided to heat things up again this winter, surpassing last year's dark beer launched with the simultaneous release of three different Imperial Stouts," says brewery owner Murray Howe. "Doing three might seem a bit over the top, but we've always done things differently and the demand for these beers from Australia's craft beer consumers is definitely here."
This year's much anticipated Dark Beer Month will officially kick off with a Dark Beer Winter Feast at Murray's at Manly. Hosted by The evening will be hosted by Murray himself, and his brewers Shawn Sherlock and Ian Watson, it will feature seven dark and delicious beers matched to five food courses. And for the first and only time Murray's Anniversary Ale 6 will be served on draught – there will be two versions available: one aged in French Oak casks, the other in American Oak.
Dark Beer Master Classes will also be run at both the Sydney and Port Stephens venues where the curious can learn about the art of brewing exotic beers with a dark twist.
"We're really excited about the release of these three big beers and they will be accessible to beer lovers right around the country. We're proud to reveal the trio as our new Seasons in the Abyss Farmhouse Imperial Stout, Heart of Drakness Belgio Imperial Stout and of course our Wild Thing Imperial Stout," said Shawn, Murray's Head Brewer. "The three beers are completely different in flavour and aroma – it was a great opportunity for us as brewers to showcase the range within this beer style."
The Imperial Stouts will be on draught from July 6, with bottles to follow, at Murray's Brewery at Bobs Farm, Murray's at Manly and Murray's online shop.
The full distributor list will be released in coming weeks.
Seasons in the Abyss – dry dark and roasty with a wicked earthy yeast character. At 11.3% ABV it's a beer to be savoured on the darkest winter nights.
Heart of Darkness – a unique beer, it is a mix of styles concocted by Murray's brewers. An Imperial Stout in basic style, but with a stronger accent on the chocolate malt over the roast barley, some rummy notes from the dark brown sugar and, underpinning it all, the classic Belgian esters and very light phenolics from the yeast.
Wild Thing – a massive, intense drinking experience inspired by the great stouts favoured by the Russian Imperial Court. The colour is intensely black, the flavour is an intense hit of mocha with some malt sweetness but an aggressive hop bitterness and roast grain bite to balance.