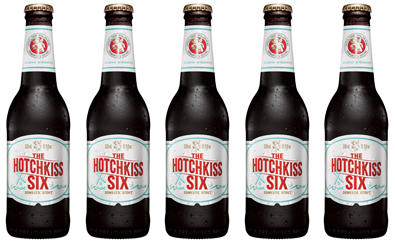 Little Creatures has unveiled its third seasonal release, a domestic stout called The Hotchkiss Six.
The name, The Hotchkiss Six, is linked back to one of the original single batch beers, The Dreadnought, named after the predominant type of battleship in the early 20th century. On the Dreadnought, there was a six calibre gun called the Hotchkiss.
Little Creatures head brewer, Russell Gosling, said the latest stout gave the brewers a chance to play with a different style to their previous winter release.
"There is so much more to stouts than the regular, bigger styles you typically find during the winter months," Gosling said.
"We wanted to showcase a lower ABV Stout (4.5 per cent ABV) – one that had really good flavour but could be enjoyed all year round – after all, in WA, let's be honest, winter is not really winter!
"We also took a look in the archives at some of our favourite dark beers of the past and then sought out what was fresh and available to us at the time, playing around with the malt bill and hops used in the beer."
According to Gosling, The Hotchkiss Six has "indulgent dark chocolate qualities from caramel malt, English chocolate malt and roasted barley. Oats add to the full and rounded palate." Late brewhouse additions of NZ Rakau and Southern Cross hops create "fruity aromas and aniseed-like spice."
The beer has 34 IBU and is available now until August, or until stocks last.