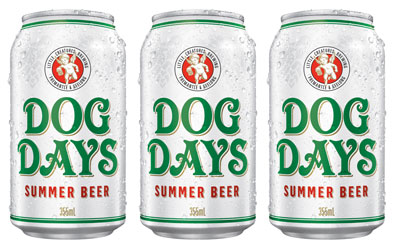 For the first time in its 16-year history Little Creatures is releasing a beer in a can, with the launch of the 355ml Dog Days Summer Beer.
First released as a summer seasonal in October last year, Little Creatures is releasing Dog Days in cans as they are lighter, easier to chill and are able to go many places bottles can't.
"The bright, peachy, juicy-fruit hop flavours marry nicely with the wheat malt. In terms of bitterness, it's firm, but not so intense that it overwhelms the light wheat character. That means you can expect bags of refreshment and a good whack of flavour," said Russell Gosling, head brewer at Little Creatures Fremantle.
"Over the last three years, people in Australia have been drinking more and more summer beer styles, including session beers and summer ales. The best news is these summer styles aren't just for summer, and people are enjoying them year-round."
The 4.4 per cent ABV beer has 30 IBUs and is available to order 3 October, so will be in all good craft beer outlets around the country the following week.