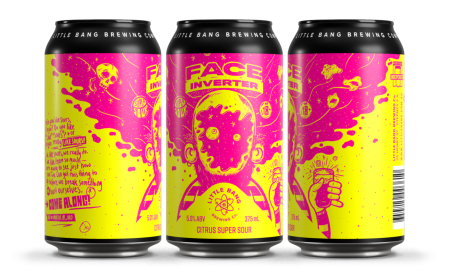 Adelaide's Little Bang Brewing Co and designer Matt O'Connor have taken out the inaugural GABS Can Design Award with their 'Face Inverter' Citrus Super Sour beer can label. They will receive the Orora Golden Can Trophy plus a free set of printing plates for their next print with Orora.
Second place went to Melbourne's Moon Dog Brewery and designer Loren Tanis for their 'The Future Is Bright' Solar Powered IPA. Third prize was awarded to Melbourne's Fixation Brewing Co and designer Jase Harper for their 'You're On Mute' West Coast Double IPA.
The first ever GABS Can Design Awards, which aims to shine a spotlight on the many talented designers across the creative craft beer industry, were announced today following a public voting process on over 120 different can designs from breweries across Australia. After receiving an avalanche of votes, a shortlist of the top 10 most popular designs were assessed by a panel of brand and design experts.
The winning designs are a creative mash-up of cultural references from tattoo art and street-wear fashions to cartoon design and modern aesthetics. Little Bang's winning design takes you back to the skateboard design days of the 80s and 90s and embodies those rebellious times.
"Just as the beer is trying to 'invert your face' with mouth-puckering force, freelance designer Matt O'Connor might just be trying to pop your eyeballs while we're at it. It's safe to say that subtlety was not the brief," GABS said via a release.
"Using a digital CMYK printing process for increased versatility, Matt went with a 100 per cent yellow and 100 per cent magenta maximum contrast colour palette to tingle the eyeballs as much as the tongue. Loud, silly, even a little nostalgic, and totally on brand for Little Bang Brewing Co."
The other top 10 runners up are:
• Blasta Brewing's 'Unbridled Unicorn' Double IPA – designer Alan Sim
• Ballistic Beer Co's 'Water Me Lawn' Watermelon Gose – designer Owain Parry-George and illustrator Daniel Startup
• Grassy Knoll Brewing's 'Valley Lager' – designed by the team at Craft Instinct (Jessie Jungalwalla and Adam Collins)
• Black Hops Brewery's 'Moondancer' Hazy IPA – designer Troy Cochrane
• Ocean Reach Brewing's 'Tropical XPA' – designed by the team at Craft Instinct
• Feral Brewing Co's 'Dirty Biggie' Oaked East Coast IPA – designer Dipesh Prasad
• Blackflag Brewing's 'Affinity' Tropical Pale Ale – designer Ross Holloway
Other than Little Bang, the rest of the top 10 winners will receive a product innovation design and manufacture package from Opal Specialty Packaging.
Contact Beer & Brewer by clicking here to share your news and views.