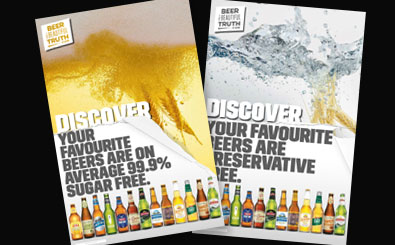 Lion has launched the second phase of its Beer the Beautiful Truth campaign, which is designed to deliver the facts about beer and bust common myths Australians have about the nation's most popular alcohol beverage.
Following on from the addition of nutritional information panels to Lion's bottles and packaging in August, the campaign will focus on two key messages; that most of Lion-owned Australian beers are on average 99.9 per cent sugar free and all are preservative free.
According to Lion's marketing director – category and planning Ben Slocombe, the campaign was inspired by consumer research, which revealed that seven in 10 Australians want to know the sugar content of alcohol drinks and the same number incorrectly believed their beers have preservatives in them.
"Beer the Beautiful Truth is a major campaign for Lion that we are committed to for the long-term. We believe that giving people more information about beer is the right thing to do – and it is exactly what Australians are telling us they want," Slocombe said.
"People want to know more about what's in the beer they are drinking and this campaign is proof of our promise to being transparent about what's in our beer. We also hope to bust some common myths about beer along the way.
The Beer the Beautiful Truth website is where people can find out information about Lion's beers; including how they're brewed, ingredients, tasting notes and the individual nutrition information.