Every Friday at Brewhouse Margaret River (BHMR), a one-off, small-batch brew is tapped and released.
Known as Ryan's Release, the 50L batch size allows brewer and 'in-house hop head' Ryan Ashworth to explore more experimental styles without any limits and also offers a unique brew to customers each week.
Also unique is the way that Ashworth found himself with career in the craft beer world.
As he explained to Beer & Brewer, Ashworth's journey into the world of beer and brewing began around 15 years ago, but it was the Brewing Network podcasts – and in particular their clone recipes, that allowed him to "have a go" at making a beer before tasting it next to the real thing – that got him truly hooked.
The isolated setting in which his obsession with beer took hold – with various careers on commercial fishing boats, seismic ships and drill rigs – may have also played a part in cementing the experimental streak in Ashworth's brewing style.
"Working away at sea for five weeks at a time I had plenty of time to listen carefully to the huge back log of Brewing Network podcasts and read all the brewing books I could get my hands on," he explains.
"Then I would come back home itching to try new beers and brew new styles. I did a short brewing course at ECU back in 2011 as I knew I wanted to make a career of brewing one day when the time was right."
Starting only a month after the Brewhouse opened in January 2016, Ashworth immediately pushed for bigger-flavoured and hoppier beers – birthing the Red Tail IPA and Coupan Imperial Stout.
This underlying desire to push the boundaries and experiment with different styles eventually led to the weekly Ryan's Release.
"The small batch project we started on Friday arvos really has no limits. I make a small 50L batch on my pilot system here at the brewery using the proper liquid yeast strains," says Ashworth.
"Being such a small volume we can afford to get the small amounts of specialty grains, hops and yeast that wouldn't really work on a larger scale for completely one-off beers."
The small batch size also reduces the financial risk for the brewery; the larger fermenters remain available for the Brewhouse's core beers, and they aren't risking the possibility of pouring 1,000L of beer down the drain if the experimental beer doesn't work out.
"These small batches are really a way to offer something unique every week to the punters," says Ashworth.
Ryan's Release for this Friday, March 10 will be a seven per cent IPA dry hopped with Columbus, Simcoe and Amarillo hops; beers on the cards for the coming weeks include a Saison and a Belgian Blonde.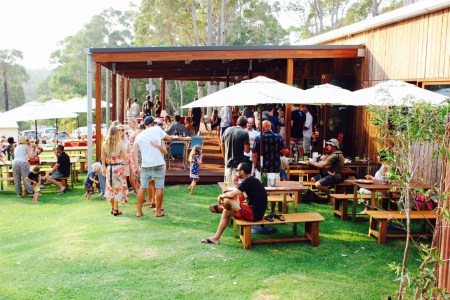 Looking further ahead, Brewhouse Margaret River is also calling on all Western Australian home brewers to submit their best beers as part of its Backyard Brewing Tournament.
Last year's winner, Chris De Chaneet, was able to brew his refreshing Belgian Farmhouse-style ale with the BHMR team and put it on tap at the brewery, where it proved to be a hit.
Register on the BHMR website or Facebook page – registrations close at the end of June.