Kegs are rolling again in a sign the Australian beer and brewing industry is getting off its knees. But the breweries warn their problems aren't solved yet as the trickle of kegs going out the door is far from business as usual.
In recent days, several independent Australian breweries have reported a sudden uptick in keg demand since restrictions placed on venues were eased in certain states, and as they prepare to be further relaxed next week.
Bridge Road Brewing's national sales manager Brad Bryce said seeing kegs being filled again at their Beechworth brewery was a relief.
"Selling beer in 50 litre cans is a hell of a lot better than selling them in 355ml ones I can tell you," Bryce said.
"But no, the feeling of filling kegs with beer again is awesome and it does feel like there is light at the end of the tunnel."
Bryce said nothing could have prepared an already bushfire-affected Bridge Road for the past few months of COVID-19-enforced lockdown.
"During (last Summer's) bushfires, our local sales completely dried up. I thought that was bad from a sales perspective. But (COVID-19) has completely blown that away.
"It'll take a long time to get back to normal sales again. It could be six months, 12 months, or even longer. We just don't know.
"But the trickle has started and we have tanks full of beer to sell in kegs if the demand is out there. Fingers crossed."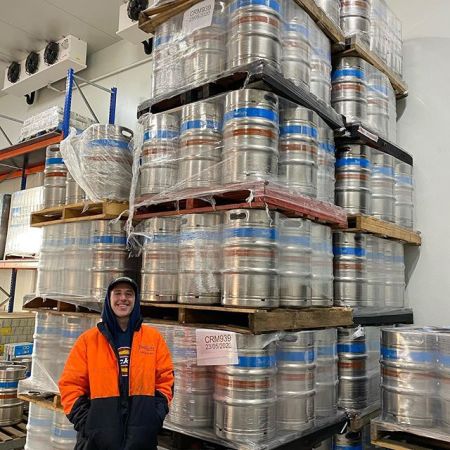 Seeing pellets stacked with Crankshaft IPA is somewhat of an early birthday present for Bentspoke Brewing Co's owner Richard Watkins.
The Canberra brewery is set to enjoy its sixth birthday next Friday and Watkins said that milestone would be celebrated with more meaning now normalcy was returning.
"Every birthday is a milestone for us. But this sixth one will be particularly significant," he said.
"After all that everyone in this industry has been through of late, it's certainly a good feeling to be supplying beer again to pubs and to our own brewpub.
"We are selling out most sessions in our taproom and people don't seem too fazed about being back in public again.
"A pub is like a lounge room to many people and I think they're pretty happy to be having a few pints and a chat with their mates again."
Watkins said packaged sales throughout the lockdown period had enabled Bentspoke to retain all of their brewing, accounts and warehouse teams, and now that the brewpub's doors were re-opened those employees are returning.
"But while it all does feel very good currently, in the back of the head you can't help feeling 'we could be back (in lockdown) again at any point'. There's no vaccine as far as I'm aware," Watkins said.
"I know some breweries would really struggle to recover if they had to return to a lockdown phase."
Contact Beer & Brewer by clicking here to share your news and views.