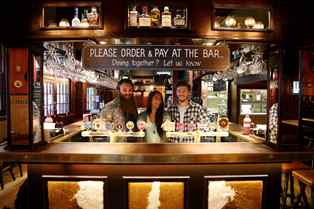 (l-r) Licensee Simon 'Wombat' Kraegen, bartender Andrea Ocampo and manager Joseph Somes
The team behind Surry Hills'Dove & Olive has re-vamped Foveaux Street's KB Hotel and reopened it as the Keg & Brew, featuring an extensive collection of bourbon and craft beers as well as Southern American-inspired food.
On offer will be 30 rotating taps of Australian craft beer and cider, as well as a number of hand pumped beers. More than 30 different bourbons will beserved neat, on the rocks or mixed into one of their three traditional bourbon cocktails.
"The Keg & Brew is all about the love of good beer. We want to give people a chance to try the excellent new brewers of Australia, while also offering the old classics, some tasty bourbon and honest pub food at a great price. We're not here to be wanky about beer we just love it and think others will too," explained Keg & Brew licensee Simon Kraegen.
Contributing to Sydney's ever-growing trend of South American-styled eating and drinking, Keg & Brew has a tongue-in-cheek redesign to boot. Cowboy-inspired wallpaper, leather banquettes and cowhide panels with stuffed animal heads are all part of the new-look.
The KB's Thai kitchen will be replaced by head chef Devendra Sherchan, and instead combine traditional pub grub with a Southern American twist. Bacon and bourbon steak, Philly cheese steak and, for the daring, deep fried Twinkies will be on offer as well as affordable KB specials of schnitties, burgers and a Sunday roast.
Keg & Brew is located at 26 Foveaux St, Surry Hills.
Written by Lucy Le Masurier