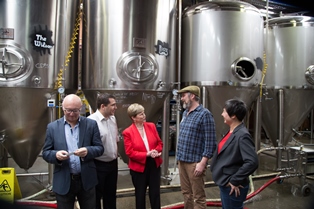 (l-r) Dr Pritchard, Peter Gous, Senator Milne, Richard Adamson, Jenny Leong
Newtown'sYoung Henrys brewery has played host to a roundtable discussion about the impact of climate change on the beer industry.
Australian Greens leader Christine Milne told the assembly, which included local Greens candidate Jenny Leong, head brewer Richard Adamson, food security expert Dr Bill Pritchard from the University of Sydney and Peter Gous, a researcher from the University of Queensland on drought and temperature-resilient barley varieties, that food security is a big issue for her, and one which she has repeatedly discussed in the Senate.
"A greater number of more extreme weather events are already threatening Australia's agricultural production, which will have serious impacts on everything from community peace, to community health and even the taste of your beer," said Senator Milne.
Dr Pritchard agreed with her assessment that the first Arab Spring marches in Tunisia were a reaction to a shortage of access to grain, stating that "the 21st century will be the century of the politics of food, and climate change is going to be central to that".
"The IPCC has projected with high confidence that we'll be seeing major disruption to food security by 2030. It's not just what will be happening to agricultural yield; it's the follow-on effects in terms of political and social instability," said Dr Pritchard.
The consensus among the group was that Australia needs to invest more in the agricultural research and development. According to Gous, "there's just not enough government support to drive essential research and development".
"In the beer example, we don't just have to breed grain varieties for better starch and flavour, we actually have to look at disease resistance, drought tolerance and how that impacts quality. If a resilient crop has a negative impact on taste, then you have to start choosing whether you want quality or quantity," said Gous.