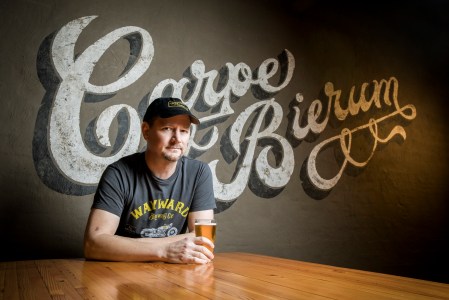 Peter Philip, chairman of the Independent Brewers Association (IBA), has called on the public to buy independent beer during the Coronavirus crisis to stave off closures.
At present, most taprooms are staying open and brewers are following the best medical advice available, but with generalised hospitality shutdowns expected over the weekend, things could change rapidly for the worse.
Following the devastating bushfires of the summer, which saw breweries damaged and their revenues slashed as people stayed away, the industry is now on the brink.
"This situation is likely to be absolutely devastating to our industry," Philip tells Beer & Brewer. "We've got the triple whammy of our taprooms likely having to to shut down – many independent breweries are very dependent on their taprooms for revenue and cashflow. Without that and without pub trade, the only outlet we have to make money is retail sales.
"It's staggering that these small businesspeople have spent the last 10 years building up their brewery businesses and it could be lost in six months.
"We don't want to lay off our staff. We've still got to pay our rent and our bank loans. Most independent brewery owners, their houses are mortgaged to the hilt and the money put into the business. We don't have the capital to continue to operate in the face of probably losing 30-5-% of our revenue over the next six months.
"There are many parallels for the bushfires. That came out of nowhere, was unstoppable and destroyed many businesses. This is like the bushfire crisis but for the whole country."
The IBA is launching a campaign called Keep Local Alive, urging people to support their local breweries and venues and keep these businesses afloat in these difficult times.
"These days, it's pretty rare that someone doesn't live close to a brewery in Australia," he continues.
"We're encouraging everyone that rather than grabbing a six-pack of your favourite multi-national lager to just try to look for the Indie Seal and ask your retailers for a good local lager.
"If we did that, we could convert 5% of the population to independent beer, then we could out of this and surive.
"The alternative is we could lose half of the breweries in the industry."
Another message the IBA is trying to give people is that not all independent beer is 'crafty' and that "there's an independent beer for everyone".
"Many people who enjoy mainstream beers don't like an 8% DIPA, but there are beautiful lagers that are not challenging and are not 'crafty'. We'll be encouraging people to look at the breweries that are around them and support them. If people are self-isolating and they're not sick, then have a beer with your dinner and make it a local beer.
"If everyone does that then we've got a chance of keeping more businesses alive. It's going to need all of us working together."