Ever since KAIJU! Beer started out in late 2013 with a massive beer and some outrageous graphics, they have regularly been asked whether they would package in cans. In late 2016 they finally found the opportunity they'd been looking for. "The idea came to Nat in a burst of inspiration, and he quickly texted me to tell me about it," says KAIJU! Chief Boss Callum Reeves.
The idea was KRUSH!, a Tropical Pale, with a balanced malt profile and big juicy aroma of hops but with much less palate intensity than KAIJU! had previously been known for. "We were thinking of styles that might take our beers to a wider audience," says Callum, "When Nat sent me that idea I was literally buzzing with excitement, and we both knew it would be a perfect idea for a can."
The brothers had learned that East Coast Canning would be starting up a mobile canning service and they were among a number of notable brewers who all launched a canned beer within a week. "I was concerned that the market might be flooded with cans and we might have trouble moving it. When I delivered the first boxes to local retailers and there were people actually waiting for this brand new beer to arrive, I knew we were on to something special."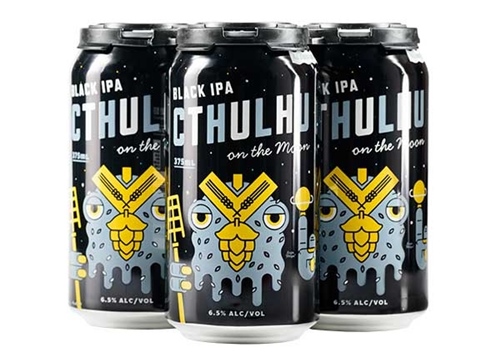 Mikey Burton's artwork for KRUSH! definitely makes an impact on the larger surface area available on a can. Nat's easy-drinking recipe, with a breakfast juice hop character, means what's inside the great packaging is appealing to both an experienced palate and those who are just discovering Kaiju! Beers.
KAIJU! have recently invested in their own canning line from Codi in the US. The first of its kind in Australia, this system fills cans in an enclosed environment, resulting in fresher beer for longer.
With the success of KRUSH! a couple of existing KAIJU! beers were next for the can treatment. Cthulhu Black IPA, has seen a strong reception in cans and Aftermath Double IPA was next in line. "Putting our very first baby into a can was a big decision," explains Callum, "but we're confident in the can's ability to maintain the freshness of such a hop-heavy beer, particularly with the technology in the new canning line. We're super-excited to see what else will be possible."
Mikey's awesome designs are also featured on some seriously cool threads. Shop KAIJU! Beer's merchandise here.