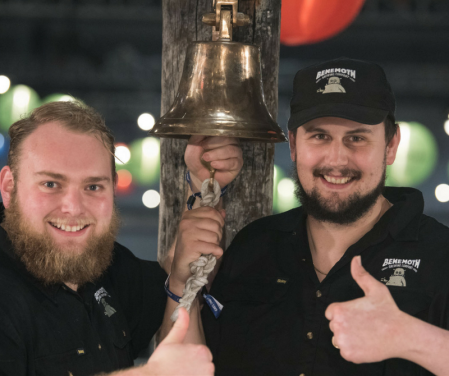 Following 10 sessions, in three cities, across two countries, with 170 Festival Beers & Ciders tasted, GABS 2017 has officially come to a close – and it smashed all kinds of records.
At GABS Auckland, more than 80 Festival Beers & Ciders were on show. Once again, the people were able to have their say in the Beer & Brewer People's Choice award and this year it is Behemoth Brewing that has come out on top with its Chocolate Fish Milk Stout.
Narrowly missing out, the runners up are Pirate Life Brewing's Vanilla Malt Thickshake (which was also runner up in Australia), Funk Estate's Pink Drink IPA, Outlier Cartel's Wunderkammer, and Mythica Brewing's Ixacao Double Chocolate Cream Stout.
Behemoth Brewer Andrew Childs is understandably delighted with the recognition.
"I've been going to GABS Melbourne for five or six years now and so knowing how well it went for Yeastie Boys when they won quite a while ago with Gunnamatta, I'm pretty proud of it."
The Chocolate Fish Milk Stout is an evolution of Behemoth's Triple Chocolate Milk Stout, which won People's Choice at Beervana and went on to become the highest rated dark beer in New Zealand.
"It was the Triple Chocolate Milk Stout plus an addition of 150kg worth of raspberries made that chocolate raspberry milk stout. So there was a lot of sweetness from the lactose and the chocolate and then the raspberries were a bit acidic and tart. So it was a nice chocolate raspberry dessert type of beer and really well balanced with the sweetness and tartness," said Childs.
"I always wanted to make a Chocolate Fish beer because the Chocolate Fish is a very iconic New Zealand candy, which is like a pink marshmallow covered in chocolate in the shape of a fish.
"We definitely knew that Chocolate Fish was going to do better in New Zealand than in Australia because some people might think it actually has fish in it, but luckily there are a lot of Kiwis in Australia, so we at least would have got their try in."
The Chocolate Fish Milk Stout is 6.6% ABV and is available in the GABS six-pack in Dan Murphy's stores in Australia and Liquorland stores in New Zealand.
Childs told Beer & Brewer that he might look at giving us the Chocolate Fish Milk Stout recipe in a future edition of the mag – so watch this space.
On the cider front, the People's Choice Festival Cider went to Zeffer Cider Company's Cherry Bomb, with the runners up named as Pina Colada Cider by Rochdale Cider and Aroha Rhubarb Cider by Moa Brewing Company.
And the People's Choice Festival Food Dish went to Judge Bao's pork bun, closely followed by Fries by Double Dutch Fries and Spicy Bratwurst by Fritz's Wieners.
Congratulations to all of the winners, and a big thanks to everyone who voted in the awards!