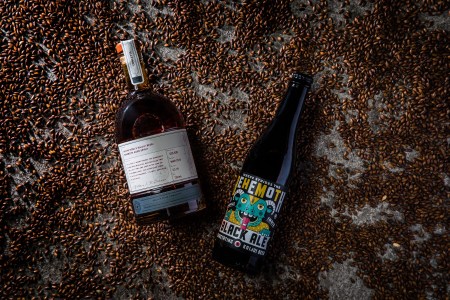 KAIJU! Beer has joined forces with Archie Rose Distilling Co. to release an extremely limited and "deliciously weird" spirit, 'Behemoth Aged'.
The result of distilling a batch of KAIJU!'s 'Where Strides the Behemoth' Double India Black Ale two and half times and then ageing the spirit in 50 and 20-litre ex-bourbon casks, Archie Rose say the liquid is best sipped neat to fully enjoy its vibrant notes of pineapple, lychees, aged rum and soy sauce.
"Having worked together before, it was our intention to do some sort of collaborative project together," explains Callum Reeves, Chief Boss KAIJU! Beer.
"We had the completely bonkers idea of distilling one of the hoppiest and highest alcohol beers in Australia – KAIJU! Beer's Where Strides the Behemoth' Double India Black Ale – and of course the guys at Archie Rose were right up for it."
"The beer has been in two ex-bourbon barrels for nearly two years. We think people are going to be surprised by how the intense, tropical fruit and savoury notes of the original new make spirit have married with, and been enhanced by the ex-bourbon maturation. It's a beast!"
Clocking in at 52% ABV (RRP $249 for a 700ml bottle), Behemoth Aged is the first release under the Archie Rose Concepts label, reserved for the most progressive and experimental releases – produced in single batches and exceedingly limited qualities.
"Our nature at Archie Rose is to be innovative and progressive. We can be quite restless, and being a young company, we like to explore," says Dave Withers, Master Distiller for Archie Rose.
"Like Archie Rose, KAIJU! Beer is driven by an appetite for discovery, so this was really cool way to launch our Concepts label as a way of sharing our most unique and unusual creations in limited quantities and single batches."
For the ultimate boilermaker, KAIJU! has also revealed that they'll be bottling more of the original 'Where Strides the Behemoth' Ale in "about a month" – talk about decadent.
Archie Rose Distilling Co. x KAIJU! Beer's Behemoth Aged Spirit is available in extremely limited quantities at a handful of select bottle shops, bars, and the Archie Rose Bar and website from today (5 April).