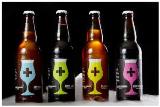 Doctor's Orders Beers (Photo by Bryn Price of Blue Doors Studio)
Doctor's Orders Brewingis preparing to make its debut in packaged format, with the launch of its annual seasonal Prescription 12 Belgian Black IPA this spring in eye-catching bottles created by Matt Burns Design.
The bottled release will follow a one-off draught collaboration Operation Paralysis by Doctor's Orders and leading US craft brewery Sixpoint, which was released this month.
Operation Paralysis is a Quad IPA, which comes in at a whopping 10 per cent ABV.
Also currently on the market on draught is another of Doctor's Orders' annual releases, the Plasma White IPA.
All beers are available nationally throughExperienceIT Beverages.