South Korean brewer Hite has collaborated with Australia's Joe White Maltings on a special edition single malt beer made exclusively from Tasmanian barley.
Terra Single Malt For Christmas is an extension of Hite's ascendant all-malt lager brand Terra, which has been brewed exclusively from Australian grown malt supplied by Joe White since the beer's inception in 2019.
The special edition doubles down on the Australian provenance story that underpins the beer, showcasing barley supplied by Joe White's Tasmanian barley provider, Vaucluse Agriculture Company, which was malted at Joe White's Devonport facility.
It is packaged in cans featuring a QR code that consumers can scan and trace the origins of the malt, from barley farm to harvest to malting – including dates, times and processes – made possible by Joe White and Vaucluse's fully traceable supply chain.
Joe White Asia Pacific Key Account Manager Daniel Baillon said the project continues the maltster's longstanding relationship with Hite.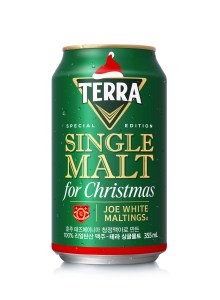 "Hite was eager to offer its customers an end-to-end view of the product through a 'grain to glass' concept and we were able to work with valuable partners such as Vaucluse to deliver a product that was fully traceable," he said.
"The market is increasingly demanding greater transparency surrounding the provenance and carbon footprint of ingredients, as consciousness in this area continues to grow among producers and consumers alike."
Joe White Maltings Devonport Production Manager, Lachlan Hanley-Sidebottom, said traceability also provides significant operational benefits for its customers.
"Understanding the barley we are malting enables us to tailor the malting process to produce consistent, high quality malt for brewers and distillers," he said.
"Our team is deeply proud to supply 100% Tasmanian malt to Hite, promoting not only our own operations but sharing a piece of our beloved home with Korea."
Adds Simon Burgess of Vaucluse Agriculture: "Traceability and single source provenance provide both downstream producers and the ultimate end users the knowledge that the product is of the utmost quality and consistency."
The flagship Terra 'pure lager' beer has sold more than three billion bottles since it was launched by Hite in March 2019, with labels proudly declaring it is "made purely from Australian-grown malt". "We are pleased to expand the Terra franchise with the exciting new Terra Single Malt, made from excellent quality malt grown in a single region, supplied by our Australian partner Joe White Maltings," said Hite Marketing Manager Kim Ji Hun.
This is a sponsored content piece. To find out more talk to the Beer & Brewer sales manager.