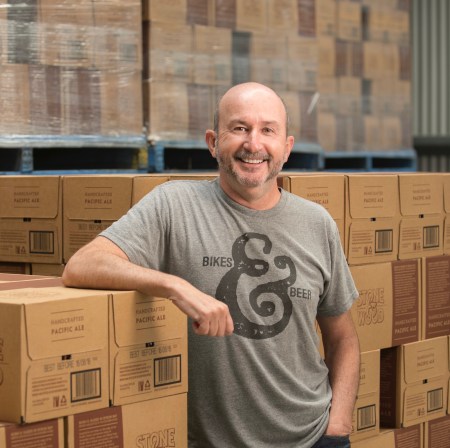 Jamie Cook has announced that he will be stepping down as CEO of Fermentum at the end of the year.
Cook will be "stepping back" from executive duties to "retire to the role of chair of the Fermentum board in December".
The board has asked Ben Summons, currently managing director of Stone & Wood Brewing Co, to step in and become Fermentum's CEO, and he has accepted.
"It's a strange feeling to some extent, but I'm very comfortable with the team that are in place, and so I think it allows me to take a step back," Cook told Beer & Brewer. "I've been working with Ben for the past six months on this transition and there's another few months of that to go. I've got to work through some structural changes back-filling his role, which we'll do before the end of the year.
"The S&W business has grown into a strong indie business. The other businesses, Fixation and Square Keg, Granite Belt and Forest for the Trees are still relatively new but blossoming quite nicely.
"It's been a feeling of pride to step back and see those things where we've got to. But there's also a little excitement of where they could be, where they could go."
Commenting on what his role as chair will involve, Cook explained: "Basically chairing that board of directors and oversight of governance and strategy, capital management and all that.
"Other pieces outside that is mentoring some of the younger people in the business. I get a kick out of doing that, seeing people grow is something that I like doing so I'll continue to spend time mentoring people in the business."
The announcement was made at the celebration of his 60th birthday last week for which Cook and his wife and two sons had brewed a family dunkel.
"I still get involved sometimes with new beers so happy to lean in if people reach out," Cook said. "I'll be looking forward to drinking it more than brewing it."
While he is stepping back at Fermentum, Cook is remaining at his post of chair of the Independent Brewers Association (IBA).
"At the end of the day there's still a lot of work to be done at the IBA and we're just starting to get some real momentum on something we've been working on for the last six months or so," he said. "Looking forward to seeing that come to light next week at BrewCon.
"The beer market is going through massive transition at the moment and I think there are some real broad opportunity over there.
"I think we've only seen the tip of the iceberg when it comes to the transition from a market dominated by two large brewers to being much more fragmented and closer to the communities.
"I think 'craft beer' has been tagged for a long time with that urban hipster image but I think we're well and truly outgrown that. I'm about to jump on a plane and head to Orange for a meeting tomorrow with the NSW government and a whole bunch of producers out there.
"There are going to be seven breweries and a handful of distilleries in that meeting. In Orange there are seven breweries in that surrounding district; it's a sign that even out in the regional areas we're seeing people embrace independent beer. I think it's really exciting for the future."