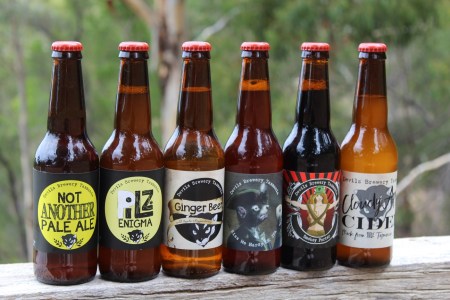 Dave Tottle, founder of Devils Brewery in Tasmania, has put the business up for sale.
Devils Brewery is a small boutique beer brand and cidermaker based at Tinderbox in southern Tasmania. The brewery has operated for five years and participates in the numerous festivals around Tasmania.
Devils Brewery has won Best Cider People's Choice at GABS twice – in 2018 and 2019.
Its beer is made under contract further north at Morrisons Brewery, while on-site there is an IBC (international bulk container)-based cider and ginger beer manufacturing infrastructure.
Tottle is unfortunately selling the business for personal health reasons, but is incredibly proud of the brewery's achievements since its founding.
"Even though we're a small producer in the smallest state, our name is certainly known in GABS circles," he told Beer & Brewer. "We make our own cider and ginger beer in our cidery. The new purchaser would be taking that set-up and putting it in their own establishment.
"We're a gypsy/contract brewer, so we use Morrison in the north of Tasmania to make our beer. It's a really good symbiotic relationship with them and I can't fault their beer marking capabilities.
"We run out of a double garage, with a 20 ft container cool room. We're not a big operation. People won't get a big operation or a brewpub. It's a very hands-on business. I've been running it on my own with part-time help from people.
"We use IBCs, which most cider makers in Tasmania would use. We ferment out of 1,000 litres at a time."
Devils Brewery doesn't currently sell its beer outside Tasmania, but it does have three beers and a cider stocked in Dan Murphy's and two beers and a cider at BWS.
"I imagine (the purchaser) being someone who wanting to get into the industry, doesn't want to start fresh, saw the opportunity to acquire an existing brand, a small business with a big recognition and the potential to grow that," explained Tottle.
"We're looking for someone with a little bit of knowledge or an experienced brewer."