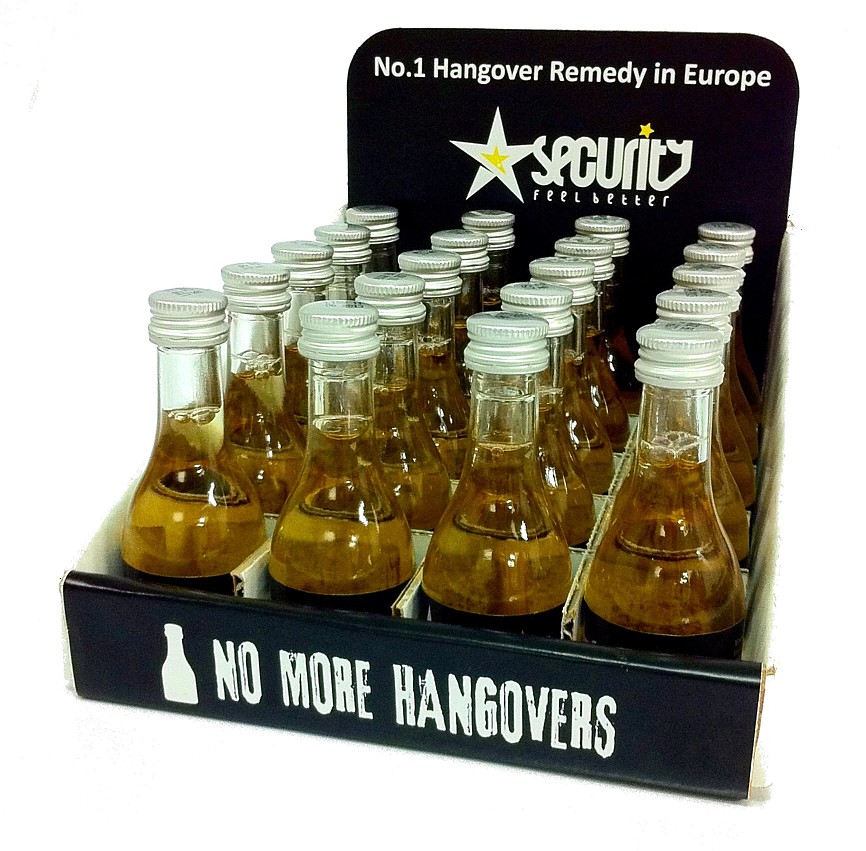 Have you even woken up after a night of drinking and sworn never to drink again because your hangover is so bad?
Have you even woken up after a night of drinking and thought "do I really have to go to work and write that report with this terrible hangover?".
If your answer is yes, there is now a hangover solution called, Security Feel Better.
Security Feel Better is a brand new anti-hangover product which is about to launch onto the Australian market. It is already the most popular hangover preventer in Europe and finally Australian men and women will be able to have a hangover free life, too.
Alcohol attacks your body from a number of angles. It is broken down into harmful toxins in your body and uses up all the important vitamins and minerals your body needs to function properly. Alcohol also dehydrates your body and leads to a feeling of fatigue, gives stress, headaches, nausea and a lack of energy which are all side effects of a hangover.
This anti-hangover preventer comes in a 30ml shot. It is pear flavoured and the main ingredient, artichoke extract, is a strong antioxidant liver tonic. Together with other plant extracts such as yunnan tea and angelica, it acts on the liver to accelerate the digestive process and speed the metabolism, helping to eliminate alcohol and other toxins faster and allowing you to feel better the next day.
Security Feel Better should be taken as your last drink of the evening, in order to have you feeling better, while you sleep, for the next morning.
Most people will begin to feel the effects of this incredible product in just 45 minutes!
Security Feel Better was invented by French scientists over six years of research. The formula has been in Europe for 15 years and is currently sold in 24 countries around the world.
"Summer is just around the corner and levels of alcohol consumption are set to increase all over Australia as people celebrate Christmas, the end of the year and the warm weather. Security Feel Better is a shot which will help metabolise alcohol fast out of a person's system, allowing them to function with no hangover in the morning", said Michael Romm, Marketing Director.
This incredible hangover preventer is available from www.pharmacyonline.com.au from 30th November, 2011 and the RRP is $6.95 for a single bottle or $49.95 for a pack of 10.
Finally Australians can have some security and feel better in the morning after a big night of drinking!
For more information Jothy Hughes 0423 491 808 or jothy@nowcommunications.net