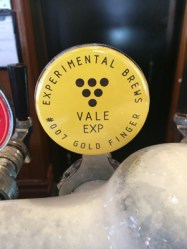 McLaren Vale Beer Company's latest Experimental (EXP) brew is full of Enigma, the exciting, newly cultivated hop.
McLaren Vale head brewer Jeff Wright said the 'Goldfinger' Golden Ale is complex and sophisticated, not unlike Bond himself.
"Goldfinger is all about citrus flavours and aromas, set against a background of subtle melon and spice," Wright said.
"Golden in the glass, expect a moreish lemon-inspired note of bitterness within this smooth and stylish brew.
"We've used Enigma hops, which are new from Hop Products Australia and offer a mysterious fruity character which mingles seductively with the international tang of the Japanese Sorachi Ace.
"The mouth feel is light to medium and well rounded, thanks to a bucket of Vienna malt and a couple of good handfuls of wheat."
Goldfinger is the seventh EXP brew from McLaren Vale Beer Company, each of which are available for a limited time on tap only in selected venues.
To find venues pouring Goldfinger, click here.