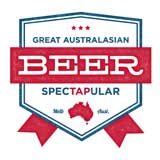 The Great Australian Beer SpecTAPular (GABS) organisers have leaked a few more details about the international guests they are expecting for this year's event, to be held over three days in late May, as part of Melbourne's Good Beer Week.
The international roster for 2014 includes brewers from as far afield as the UK, US, Japan, Norway and Denmark – as well as the 'local' brewers from NZ.
Among those attending are Garage Project (NZ), Mikkeller and To Øl (Denmark), Magic Rock Brewing (UK), Coedo (Japan), Nøgne Ø (Norway), Sixpoint and Evil Twin Brewing (US).
Magic Rock is creating a white wine barrel aged version of its Berliner Weisse called 'Circus of Sour' – adding plums to the barrels during the second fermentation and Garage Project is working on what it calls Umami Monster, brewed with Kombu (seaweed), Katsuobushi (fermented fish) and sea water.
The 2014 event will be held from23 – 25 Mayand is expected to attract more than 12,000 people. For more information, head to the GABS website.