Coopers' $65 million, 13,000sqm malting plant that officially opened last week will also provide a reliable malt supply for independent brewers.
With Coopers using around 17,000 of the 54,000 tonnes of malt that the plant will produce each year for its own brewing needs, more than two-thirds of the malt will be sold to domestic and export customers.
"Coopers has a long tradition as ale brewers, and of course we're independent brewers ourselves – so I think we have a real synergy," Maltings Manager at Coopers, Dr Doug Stewart, told Beer & Brewer.
"I think a lot of independent brewers in the independent or craft industry probably started with Coopers kits back in the day, and they probably all enjoy a [Coopers] Pale Ale or Sparkling Ale.
"So I think we have a really good connection with the craft brewers and we understand what they need, as we're brewing similar beers ourselves – I think there's a really nice relationship there to be honest."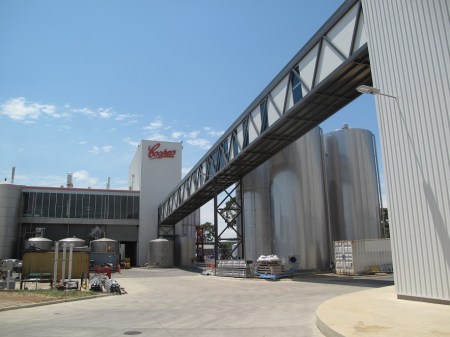 Dr Stewart also revealed that Coopers would be looking at roasting malt in the future.
"We're looking at roasting down the track, but starting off we've just got malts made in the kiln – so we do a pilsner malt, a pale malt, an ale malt, and then we get up to the coloured malts: the Vienna's and Munich's as well.
"That's as high as we can go for now, the Munich malts. And we need to look at it in terms of volumes – we've got lots of silos so we can segregate the different colours, but we've got to play it by ear."
And as he explained, there's also room for the maltings to grow: "We can put an extra row of steeps in and we've got plans, when we can, to put an extra row of germination vessels in – we've designed it [the malting plant] with the ability to double it," he said.