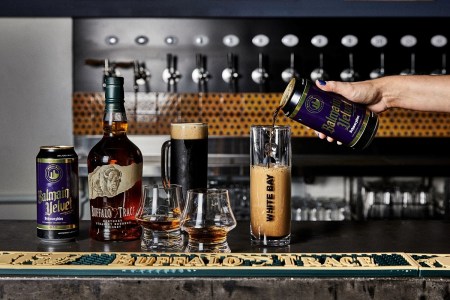 Bourbon will meet beer in a boilermaker bus tour of four Inner West breweries on October 20 as Buffalo Trace Distillery host a guided event between White Bay Beer Co, Wayward Brewing, Stockade and Mixtape Brewing.
At each stop ticket holders will get an interactive sneak peek and stories about Buffalo Trace, exclusive tasting of boilermakers specially brewed just for the event, cured meat and cheese platters served on antique Buffalo Trace barrel heads and a bourbon BBQ dinner. To complete the night, guests will be sent home with a bottle of Buffalo Trace Bourbon to enjoy.
Buffalo Trace also said some of the distillery's most sought after whiskies, such as Pappy Van Winkle, Weller and Eagle Rare, may just make a special appearance on the tour too.
The bourbon excursion kicks off at 5pm at White Bay, where their Balmain Velvet Schwarzbier will be the beer paired with Buffalo Trace. At the next stop, Wayward will showcase an Imperial Stout before Stockade's Pepperberry Porter will welcome guests at the third destination. The tour ends at Mixtape with the Buffalo Bourbon Amber Ale boilermaker paired with a Buffalo Trace smoked meat dinner.
Tickets are $99 for the full tour and four brewery visits, boilermakers, platters and BBQ dinner, plus a bottle of Buffalo Trace Kentucky Straight Bourbon Whiskey (700ml/RRP $60) to take home.
For those who miss out on tickets, the exclusive boilermakers created just for this tour will be available at three of the breweries – Wayward, Stockade and Mixtape – throughout the month of October.