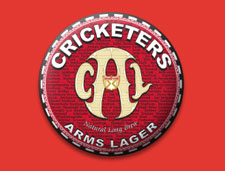 Another craft beer brand has been snapped up by an international beverage company in an effort to "establish itself as a major multi-beverage provider to the total industry, not just a leading RTD supplier".
Independent Distillers Australia (IDA), a subsidiary of Japanese beverage company Asahi, has purchased the Cricketers Arms, makers of Cricketers Arms Lager, in order to add a "highly creditable domestic mainstream craft beer company" to their expanding drinks portfolio.
While not a huge brand on the craft beer scene, Cricketer's Arms is readily available across the country in venues as well as Woolworths and Coles liquor outlets, as well as a smattering of venues internationally.
Looking to enhance its beer offering – as well as Asahi Super Dry, the company also has Kingfisher from India – IDA is proud to add Cricketers Arms to its portfolio says Independent Distillers and Asahi Premium Beverages CEO, Greg Ellery.
"Cricketers Arms is an outstanding addition to our product portfolio," he says. "With its iconic Australian name and in particular its great product range, of which many new products are yet to be seen in the market… the acquisition of Cricketers Arms bolts on perfectly to the expansion of our on-premise and total beer offering, providing our company with the impetus to become a much larger player."
According to Cricketers Arms CEO, Paul Scott, IDA was good match for his brand's ethos and he is looking forward to expanding the brewing company's reach.
"This is a very exciting
time for Cricketers," he says. "I'm looking forward to growing the product range
and market share and working closely with the great team at Independent
Distillers, whose philosophy matches ours."
The additions to the brand's product line appear to be Cricketers MidOn (a mid strength brew) and Cricketers India Pale Ale – both of which are listed on the website as "coming soon".
Ellery also flagged a significant expansion of the his company's Laverton operation including investment in a brand new, high speed and high volume keg line, new fermentation vessels and a new yeast propagation plant.