One of Australia's most successful 19th century beer brands is being brought back to life, with the launch of the Walkers Brewing Co. brand and its first beer, a Special Pale Ale.
Known as 'the nectar of the west' during its heyday from the late 1890s to mid-1920s, Walkers pale ales, bitters, stouts and lagers were famed throughout the central western region of NSW and beyond.
Bathurst was the site of the original Walkers Brewery, established on Howick Street in 1895 by the entrepreneurial James Walker, with another brewery opened in nearby Orange in 1897.
The 21st century Walkers Brewing Co. founder Toney Fitzgerald has teamed up with Institute of Beer director, Australian Brewery head brewer, renowned judge and Beer & Brewer tasting panellist Neal Cameron, who is chief beer maker for the new brewery.
"We are gypsy brewing at the moment through various well known Sydney breweries and the director of brewing is Neal Cameron," Fitzgerald told Beer & Brewer.
While a Walkers Brewhouse and Bistro hospitality concept is slated to open its doors in Bathurst in 2018, the Walkers team are now focused on redeveloping beer recipes from the past.
"The Special Pale Ale is our lead in beer style and we want to focus on making it a category winner," said Fitzgerald.
"The next we will focus on will be the Summer Shandy and it will be out in December. What's after that is still undecided, maybe a draught or bitter. See how the market is at the time."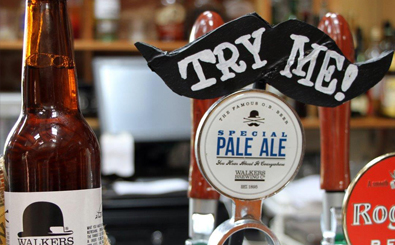 In its heyday, Walkers owned every brewery in western NSW.
"The famous original strapline was 'you hear about it everywhere', the beers regularly won awards at local shows and it was one of the top three beer brands in NSW at the time," explained Fitzgerald.
However, in the late 1920s the original Walker and Co. Ltd company was closed, brewery operations in Bathurst and Orange eventually closed down, and production of Walkers beer came to an abrupt halt.
The Walkers brand lay dormant and forgotten for the best part of a century, until a chance encounter with a photo of the Orange Brewery in a central western library inspired Fitzgerald to resurrect the brand.
"I had no idea they were brewing beer here in the Central West over a hundred years ago," recalls Fitzgerald.
"I was fascinated to find out more."
After discovering the original brewery plans were still preserved intact at the local Council, Fitzgerald and his team arranged to conduct a sonar test of the backyard of the original Walkers Brewery site at 80 Moulder Street.
"We'd heard through a local historian that her grandfather and great-grandfather had worked at Walkers Brewery in Orange, and legend was they'd buried a crate of beer in the yard when it closed down," explained Fitzgerald.
Although the outlines of the original cellar were revealed, only a handful of bottletops and broken pieces of glass were unearthed.
Fitzgerald's next step was to place an advertisement in national papers to find James Walker's heirs, however the search proved fruitless.
Determined not to give up, Fitzgerald paid James Walker a visit at his gravesite in South Head Cemetery in the Eastern Suburbs of Sydney.
"I sat on the edge of his grave and promised to bring the beers back to life if he'd give me his blessing," said Fitzgerald.
The next day an email arrived from the great-granddaughter of James Walker, and a dusty box containing some of the original Walker's recipes and bottle labels was entrusted to Fitzgerald in his quest to resurrect the brand.
"It was like James Walker handed them to me himself," recalls Fitzgerald.
"I took it as a sign that it was definitely time for this iconic Australian heritage beer brand to be brought back to life. We're now inviting everyone to walk with us on this journey, as we take Walkers to the world."
Walkers is focusing on getting its beers flowing through the taps of the NSW Central West for now. However, there are plans to spread out through NSW and further afield over time.