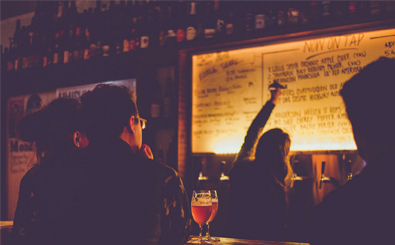 Written by Stef Collins, bars&clubs editor
Creek & Cella is the new venue from the brains behind Sydney's Oxford Street beer institution, Bitter Phew.
The new bar and restaurant will have a focus on food and beer matching, with owner Aaron Edwards excited to also explore natural wines and a great cocktail offering.
"Our beer list will be quite curated, so we have nine taps but we won't be doing another Bitter Phew," he says. "We'll have the full gamut of beers but it will be more food based in its focus. So things that food will work well with. We'll still have a pale, a lager, a double IPA etc."
The opening tap list includes highlights such as Willie Smith's cider, Shenanigans Winston Pale Ale, Pirate Life Porter, Akasha Double IPA and Lager, and La Sirène Saison.
"Obviously, the customers will determine how long we have that list around for, but all of those beers are very food oriented," he says. "Whereas at Bitter Phew we just do what we want. Here we will have a guaranteed three taps that will be very food matchy – so saisons, Belgian-inspired beers – things that are more savoury."
The wine list is "cracking" according to Aaron, with a major focus on organic and natural wines on a well curated list that has been designed to fit all budgets and levels of experience. Unlike Bitter Phew which just has wine to cover those non-beer drinkers who have been dragged along. Aaron says that Creek & Cella will have "one of the more interesting wine lists in Sydney", likening it to Bar Brose and 121BC in style, quality and variation rather than size.
Expect plenty of interest on the cocktail list as well with Aaron teaming up with Ben King from his other bar Doris & Beryl's Bridge Club & Teahouse in Newtown. And yes there will be beer cocktails on that list.
"Coming into summer there will be a focus of spritzes, definitely a big influence from the Italian style Aperol spritz and Amari," he says. "Ben is doing 90 per cent of the cocktail list here and he's a very 'pointy-end' cocktail guy. So it's about having the edge but not making people feel uncomfortable. So it won't be things that are recognisable, but the flavours will be approachable.
"Winter will get really interesting too. I know we'll definitely use beer, because we can, and where possible dehydrated salamis and things like that for garnishes on something like an Old Fashioned. Which isn't new, but we have the produce so we might as well use it."
According to Edwards it will be an equal opportunity venue, where a wine nerd, a beer nerd and a cocktail lover can all share some plates of food and no one is left out.
The food focus of the venue is on charcuterie and cheese – there were some huge fridges waiting to be filled when we visited the site – and, once the kitchen is open, there will be a seasonal menu that will focus on great local produce that has had minimal intervention. Like some amazing smoked oysters from the south coast – don't think of the ones you get in tins, these are the real deal and Aaron is pretty excited to have them on the menu.
"They've never been in an Australian venue before, they've only just launched them," he says. "They were only exporting them for so long because they're that good. They're plump like little steaks.
"We're trying not to detract from the products because the produce that we have is award-winning and world class. Or they're local and they have to be eaten within a certain amount of time to gain that flavour."
There is a lot of small plates on the menu for the opening stages of the venue, and then there will be a menu expansion with more options. However, Edwards points out that won't be a focus until the venue is fully online and working well.
The building used to be a Pain de Quotidian branch which Aaron used to eat at, meaning that he was already very familiar with the venue and the potential for the space.
"Most people only know Leichhardt from the last three years, which is shit. It used to be really good and it had this thing going about eight years ago where it was buzzing and there was nightclubs here," he says. "So that is half how this place came about. I had lived in the area for several years and I could kind of see that it had hit the bottom and the only way to go from here is up. If you do the right thing, people appreciate it."
After a few hiccoughs with council regulations and endless paperwork, the venue is set to partially open today, with the second part of the venue set to open a little later on.
"Hopefully we're the trailblazers that make it great for everyone else," he says. "Regardless I've kind of built this business plan in a way that we're pretty bulletproof, not invincible, but bulletproof in a way that we can weather a few different aspects of the business well. And when it does tick up we're be in a position to take full advantage."