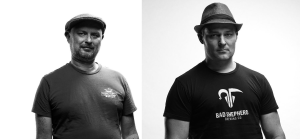 The IBA has announced the addition of two new board members, as it bids farewell to director Ben Kraus who has stepped down.
Dereck Hales from Melbourne's Bad Shepherd Brewing Co is taking a casual board position and replaces Kraus. Richard Adamson of Young Henrys in Sydney now holds one of the direct appointment board position.
Hales, who garnered experience in senior marketing roles prior to founding Bad Shepherd, will be spearheading the IBA's Marketing Project Group.
Adamson will be deeply involved in the development of training and education initiatives with TAFE in Sydney. He will be heading up the IBA's People Project Group and will be driving the IBA's efforts in areas of education, training, safety and diversity.
Departing director Kraus founded Bridge Road Brewers in Beechworth, Victoria, 14 years ago, building it up to a business that now employs over 40 people. He and his family will be embarking on a 'gap year' in Austria, while still retaining full ownership and direction at the brewery.
"We wanted to take a break after 14 years of hard work, but at the same time we remain as passionate as ever about our brewery and industry and didn't want to say goodbye to any of that," says Kraus. "As of 2 July, we'll be on a 'gap year' living in the Alps, and our kids will begin a full year of Tirolean family, culture and school. I'm confident we'll see Bridge Road Brewers continue to grow, maintain our culture and passion and probably do even better in our absence with the awesome team we have.
"I've been honoured to have been given the opportunity to work with a passionate IBA team to help set direction, strategy and achieve real results for independent brewers."
In a statement, the IBA expressed its appreciation for Kraus and its sadness at his departure: "On his time on the board, Ben has fought fiercely for independent breweries of all sizes and has been outspoken on issues including tap contracts and excise rates. He will be greatly missed by the IBA staff, board and the independent brewing community of Australia."
The IBA has also announced that it is on the hunt for a general manager to work with the board, the IBA team and its project groups, as well as a marketing manager to join the Melbourne team. Applicants should visit the IBA website and download the position descriptions.