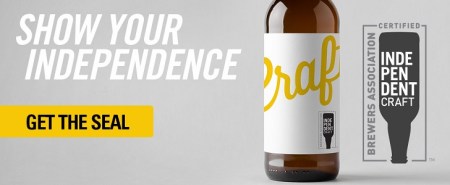 The Independent Brewers Association (IBA) is working on a series of 'awareness pillars' aimed at helping consumers to easily identify beers that are brewed independently in Australia.
One of those awareness pillars is the development of an independence seal, which the association is planning to launch in early 2018.
This seal, which will be available exclusively to IBA members, will enable consumers to readily identify between beers produced by independent brewers as opposed to larger corporate-produced beers. The move reflects what has already happening in the US (pictured) and the UK, where seals of independence are already available.
In recent months we have seen a flurry of independent brewery sales, with 4 Pines and Pirate Life being acquired by AB InBev and Feral Brewing Co being acquired by CCA. But the IBA wants to be clear that this project is not a "knee jerk reaction" to those sales.
IBA Chair Ben Kooyman, told Beer & Brewer: "We've seen these three notable acquisitions over the last few months, but we're not knee jerk reacting to any of them. We'd already started this new strategy and it just very conveniently, and happily, falls in line with what's happening in the market."
A committee was established earlier this year at the Australian Craft Brewers Conference and they have been working on creating a suite of brand assets for the Independence Seal along with the licensing agreement to go with it.
"It's just to give consumers better access to making informed decisions. It's not just in beer, but in several consumer categories, people want to know a little bit more about what they're buying and what they're consuming, and this seal will be very visual and immediate artwork showing independence and who's behind that particular beer," explained Kooyman.
"There'll be a lot more confidence around that claim. But also they can then hopefully find out what an independent brewery is and what isn't an independent brewery. First and foremost they'll like the beer, and there's such choice out there, it just gives them another option to help make a choice."
The IBA is working towards a vision of quality independent beer everywhere through awareness, quality, regulatory and value initiatives for its members.
"We're trying to improve the quality of the remaining independent brewers, which is really important. We have to make sure, first and foremost, that the beer quality doesn't disappoint consumers and that we continually make sure our beer is as good as the big boys, because they are great technical brewers," Kooyman told Beer & Brewer.
"And then we're also doing other things like members' services and value that's going to benefit the smaller guys, because we literally can't compete with the buying power of the big guys. Then we've got our regulatory pillar, which isn't just in reaction to an acquisition, that's in reaction to the whole industry dynamics that have evolved over a decade.
"The IBA is really cracking on with some key actions – after the silly season we're going to go to market and make sure people understand a bit more about what we do, most importantly the members so they can see they're getting value for their membership."