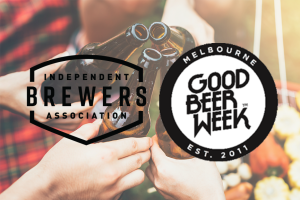 Melbourne's Good Beer Week (GBW) has merged with the Independent Brewers Association (IBA).
The merger will extend the reach of the IBA into trade and consumer markets, support the growth of GBW into its ninth year and bring complementary teams together.
As part of the merger, GBW chair Kate Paterson will become the IBA's head of industry relations, and GBW general manager Siobhan Kerin will take on the role of head of events for the IBA, both based at the GBW offices in Melbourne.
Paterson will work closely with IBA members and associate members to develop the industry as it undergoes a period of profound growth. Kerin, who spent time at Federation Square's Beer DeLuxe, is expected to boost the IBA's on-premise trade relations. Both will report to IBA CEO Alexis Roitman, and will commence their new roles in December.
The merger gives the IBA a presence in the two largest Australian markets, Victoria and New South Wales, where almost 60 per cent of the IBA's Members are based, along with 75 per cent of the IBA's Associate Members.
Over 10 days each May, GBW offers 300 diverse events in venues across Melbourne and Victoria, attracting 75,000 attendees from Australia and internationally.
"As Australia's premier Beer Week, GBW has an unparalleled reputation with venues and beer lovers, evolving into a global festival in just eight years," comments IBA chair Ben Kooyman. "Kate Paterson and Siobhan Kerin are accomplished operators who, with the backing and support of the GBW Board, have achieved great success. They are rightly held in high esteem by our sector and we welcome them to the IBA."
"Good Beer Week has grown into a globally recognised celebration of craft beer through the passion and determination of our small team and the amazing people who make up Australia's craft beer industry," adds Kate Paterson, GBW chair. "Our philosophy, and that of the IBA, is to support the growth, creativity and passion of those who work so hard to bring great beer to market in Australia. This merger will help Good Beer Week to fully realise its vision, as well as building a new IBA team with the skills and knowhow to deliver on these principles across Australia."
With the GBW 2019 program currently being put in place, partners and sponsors will continue to work with GBW as usual. The new IBA team will collaborate on plans for BrewCon and the Indies, which will be held in Melbourne in August 2019. Further announcements about these events will be made in due course.