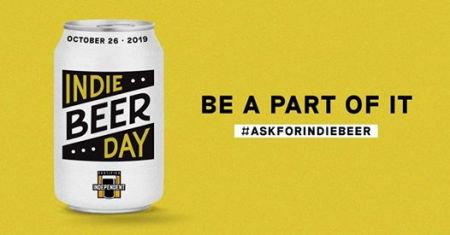 In celebration of Australian independent breweries, the Independent Brewers Association (IBA) has branded Saturday 26 October as National Indie Beer Day.
The association is encouraging everyone to raise a glass at 2pm AEST. Breweries and partner venues across Australia are rallying behind the day.
Indie Beer Day was announced on Wednesday 4 September at the Marketing Update at BrewCon 2019 by Dereck Hales, co-founder of Bad Shepherd Brewing Co. who joined the IBA board this year and is leader of the IBA's Marketing Project Group.
"We're calling on everyone in this room and everybody you know to get involved in this publicity stunt," he said in his address. "We're going to have a synchronised national cheers and share our passion for beer.
"Hopefully we can tens of thousands of people on board and share it all at once. We've talked about it maybe being the biggest cheers in the world.
"We're investing in video, so we'll be sharing two or three ads… on digital channels telling the story about independent beer."
The IBA has engaged a PR company to tell the story to media outlets and beyond. Hales urged those present at the talk to encourage venues, members, associate members and anyone else they knew to sign up and get involved.
POS will also be distributed in downloadable and printable formats, while social media will also be telling the story.
"We (the IBA) are extremely excited to announce the launch of Indie Beer Day, which will mark our first national public event," says Jamie Cook, chairman of the IBA and co-founder of Stone & Wood. "October 26 will be a day to come together to pause and celebrate our growing role in the community and share it with all Australian drinkers."
Indie Beer Day is planned as an annual event, and the idea is to hold it on the final Saturday of every October, meaning that the exact date is likely to change over time.
"There's no reason that with the people in this room we can't make this powerful," Hales added. "Get every customer on board. Share, share, share."