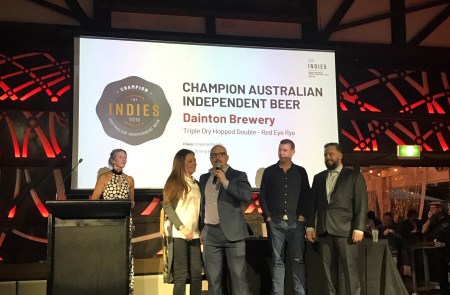 Dainton Brewery's Triple Dry Hopped Double Red Eye Rye has won the Indies to be crowned Australia's best independent beer.
Dainton won the award at The Independent Beer Awards, held at the Melbourne Convention Exhibition Centre this year on Thursday 4 September.
On stage, Dainton co-founder Dan Dainton proposed to his girlfriend Jess – the second on-stage proposal of what was an incredible night.
"It was surprising to say the least and very exciting," Dainton told Beer & Brewer. "We've got a little bit of a benchmark which is trying to win a couple of gongs every time we do it so winning the first one. Trophies are rare things. So it was very exciting.
"It's very humbling and rewarding for the guys in the brewery who are on the floor doing , making the beer. A lot of the recipe stuff, I come up with with them. But they're the guys who are doing the hard work so it's a great reward for those guys
"I do believe that the larger beers are more prone to winning some of the bigger awards. We won the same award two years ago, champion craft beer with the smoked porter. This one was 8.1%. Alcohol does the give the beer more flavour. So you can pack in a lot more malt in there at the same time.
"It's kind of surreal. I feel a little bit lucky. I don't use luck lightly as a term, because we work our arse off. One of the things we say every day when we come to the brewery is 'we are trying to make the best possible beer we can'. I think we've shown that we're up to the challenge.
"Jess and I have only been together for a very short amount of time. We knew very early on that it was going to be very serious I said if we win another trophy, after winning the first one, I'm proposing, just be prepared. She laughed but I'm a man of my word. I had to use Kirrily's (Kirrily Waldhorn, Beer Diva, was co-hosting) ring. If you're listening out there, and you're a consumer of beers buy some more Dainton beers because I have to buy my fiancée a ring!"
Fixation Brewing Company won Champion Large Brewery, 3 Ravens was awarded Champion Small/Medium Brewery and All Hands Brewing House won the inaugural Champion Brewpub.
Hosted by the Independent Brewers Association, the Indies are a platform to drive consumer awareness of the quality and importance of Australian independent beer, as well as providing an occasion for independent brewers to celebrate the strength of their contributions to improving Australia's beer culture.
Over a thousand entries were judged by a respected panel of national and international beer professionals to recognise the best beers and awards the Champion Beer Trophy to the most outstanding entry in each class.
The other Champion Trophy winners are:
Beers
Pale Ale: Mismatch Brewing Co. Pale Ale (keg)
Amber Dark Ale: Nail Brewing Co. Nail Red (keg)
Porter/ Stout: Stomping Ground Brewing Co. Bunker (keg)
Hybrid Beer: Hunter Beer Co. Slaked Magpie (keg)
Lager: Sydney Brewery Surry Hills Pils (pack)
India Pale Ale: Modus Operandi Brewing Former Tenant Red IPA (pack)
European Style Ale: Bright Brewery Razor Witbier (keg)
Session Beer: Sauce Brewing Co. Piss-Week Sauce (pack)
Strong Beer: Dainton Brewery Red Eye Rye (pack)
Mixed Culture Beer: Dollar Bill Brewing Pty Ltd Learning to Breathe (pack)
Champion State/Territory
Champion Independent Brewery NSW: All Hands Brewing House
Champion Independent Brewery QLD: Balter Brewing
Champion Independent Brewery VIC: 3 Ravens
Champion Independent Brewery WA: Gage Roads Brewing Co.
Champion Independent Brewery ACT/NT: BentSpoke Brewing Co.
Champion Independent Brewery SA: Mismatch Brewing Co.
Champion Independent Brewery TAS: Van Dieman Brewing
Industry Nominated Awards
Service to Industry Award: Neal Cameron
Young Gun of the Year Award: Dan McCulloch, Lallemands
Community Initiative of the Year Award: Stone & Wood, Ingrained Foundation
True Indie Supporter Awards: Corey Crooks, Grain Store