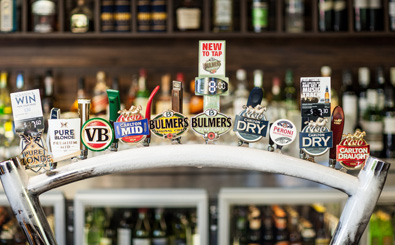 This column was supplied to Beer & Brewer by Chris McNamara, the Executive Officer of the Independent Brewers Association (IBA) following a disappointing ruling by the Australian Competition and Consumer Commission (ACCC) that tap contracts are  "unlikely to substantially lessen competition" for craft brewers.
"It was an extremely disappointing telephone conversation we had with the Australian Competition and Consumer Commission (ACCC) in July when, after a long, almost four year wait, they told us they were taking no further action as a result of their tap beer investigation.
"It left us at the IBA, and the independent brewing industry generally, more than a little confused. If there were no issues then why did it take so long to hand down a report? And then we saw the details of the investigation. Only 30 brewers had been interviewed and a further 30 had filled in a questionnaire. Thirty-six venues had been spoken to. And that took almost four years? Obviously there are issues at the ACCC if they cannot conduct an investigation in a more timely manner.
"And what of the investigation itself? The ACCC's official response to the IBA spends a great deal of time focusing on the venue's experience. Or more accurately put, the experience of the 36 venues spoken to. You'd be hard pressed to find a statistician who would be comfortable with that small number being representative of all licenced venues in Australia.
"The ACCC has advised that they focused on sections 45 and/or 47 of the Competition and Consumer Act 2010 to see if any of the contract terms had the effect or likely effect of substantially lessening competition in particular local markets and not on Section 46, which deals with the misuse of market power. They did this because "venues told us that the infrastructure investments and rebates that are tied to these contractual provisions are valuable trade-offs for them, so in these circumstances we considered that there was not a clear anti-competitive purpose behind the contracts.
"The venues spoken to reportedly stated that they were happy with the current contractual arrangements. Surely though that is the issue? Venues are being offered contracts that are too good to refuse, whether that be through rebates or cash incentives. These are terms that small, independent brewers will never be able to match.
"To our thinking the investigation has missed the point entirely. It is the small, independent brewers who are having market access issues. It is their experience which should be the focus not that of the venues. The ACCC has indicated that they will revisit the issue in coming years. We'd suggest that they should do it now and do it properly."