The Cidery Bar & Kitchen has relaunched in the heart of Sydney's popular World Square dining and entertainment precinct after a complete re-imagining of the venue.
The new design offers blends 'urban distressed' style with warm, colourful tones, deep chesterfields, herringbone parquetry flooring and a bar constructed from recycled bridge timbers.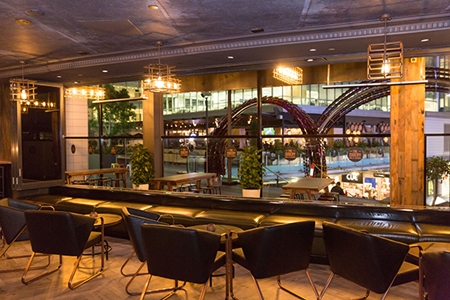 With an airy outdoor terrace overlooking World Square, The Cidery is a cosy nightspot, funky eatery and perfect event venue with DJ's every Friday night and solo artists on Saturday evenings matching the vibe.
The bar and eatery offers an expanded range of craft beers and ciders, particularly from Australian small producers, with the flagship cider, Sydney Cider produced in-house by Sydney Brewery.
The Cidery bar team and chefs have developed a selection of food dishes to complement the craft ciders and beers. Share plates include cauliflower crisps with Fourme D'ambert sauce, and high-quality charcuterie and cheeses. More substantial dishes include 'Lovedale Lager' battered fish and chips, whiting fillets meuniere and duck cassoulet.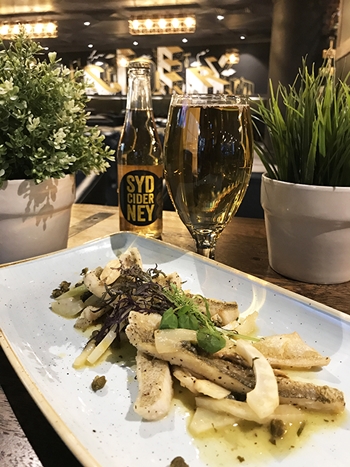 The Cidery also showcases an extensive range of craft beers, including beers produced by Sydney Brewery that celebrate the great city of Sydney with labels such as 'Paddo Pale' & 'Surry Hills Pils'. Premium wines and cocktails (many using cider) are also available.
"Fresh is everything," says The Cidery's manager, Nikolas Artemis. "It's a fresh new look, the cider comes fresh from the cidery just a few floors under the bar, and we have designed our new menu to complement the ciders and beers.
"When pairing cider and food we use a similar approach to wine/food matches. Like wine, cider is a fruit based drink which can be sweet, dry, still or sparkling. We match many of our seafood dishes with ciders that have grassy, tropical fruit aromas reminiscent of Sauvignon Blanc. A summer salad full of strawberries can help amplify the cider's flavour profile while, in turn, the cider helps highlight the salad's star ingredient."
Further information:
The Cidery Bar & Kitchen
World Square, 389 Pitt Street, Sydney
WEB: www.theciderybar.sydney
Tel: +61 2 8268 1670
E: theciderybar@rydges.com