This 4 Pines Brewing Company Keller Door small batch release is an interpretation of a classic German style, released to tie in with Oktoberfest. The Dopplebock has always been a favourite in the brewpub; the addition of hops has given it at untraditional twist we had wanted to try, so that became the nucleus of the concept. And – the given name becomes far more interesting to say once you've got a mouthful of Cheezels or marshmallows. We highly recommend you trying.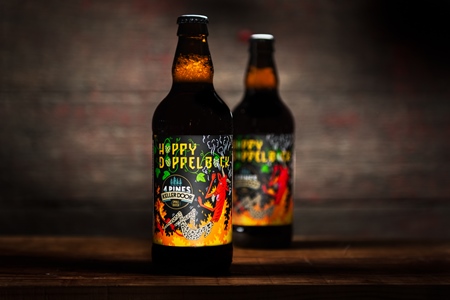 Tasting Notes: Once brewed with a holy purpose, the Hoppy Dopplebock packs a punch so strong that Beelzebub himself drops to the floor and quivers at the mere sight of it. This double-down deal with the devil crams in so much super-rich Munich malt flavour it can sustain a monk through months of fasting and enough contemporary hope to smother the hot fires of hades. The monks of old believed that liquid cleansed the body and the soul. Amen brothers and sisters, redemption is here.
Malts: Vienna / Carapils / Caramunich / Munich / Melanoidin
Hops: El Dorado (USA) / Enigma (AUS)
Hoppy Dopplebock is available now in the limited release 500mL bottle from leading bottle shops around the country.
RRP $11 / 1 x 500mL bottle
7.5% ABV / 40 IBU
For more information on 4 Pines beers, the Brewpub & Restaurant
in Sydney's beachside suburb of Manly or the Brewery Truck Bar in Brookvale, please visit www.4pinesbeer.com.au
Or follow them on Facebook, Instagram and Twitter @4pinesbeer