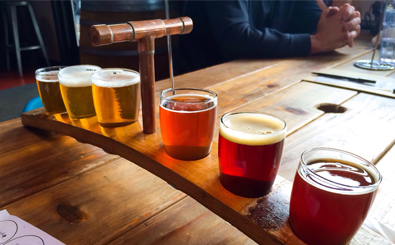 Written by Andy Young, editor The Shout
The on-going trend of falling alcohol consumption is continuing with IBISWorld revealing that in 2016-17 domestic consumption of alcohol is expected to reach its lowest level for 50 years.
The trend of consistently declining alcohol consumption has played out over the last decade, falling from 10.53 litres per capita of total consumption in 2009-10 to 9.37 litres per capita in 2016-17. This trend is forecast to continue, with alcohol consumption in Australia expected to fall to 8.54 litres per capita by 2023-24, down from 10.57 litres in 1990-91.
The growth in craft beer is one silver lining for the beer industry, with IBISWorld predicting the category will increase by 11.7 per cent per year over the next five years to $454.2 million.
But craft beer producers face challenges with cost-efficient transport options difficult for small batch brewers. IBISWorld expects this will drive craft brewers to create export groups among themselves, using export agents to reduce costs and consolidate shipments.
This strong performance has helped offset some of the declines in the consumption of traditional mainstream beer brands.
With mainstream beer brewers heavily reliant on the declining domestic market and having negligible export exposure they have been hardest hit by the decline. Beer consumption has fallen from 4.51 litres per capita in 2009-10 to 3.73 litres per capita in 2016-17.
IBISWorld expects the beer manufacturing industry to decline by 0.7 per cent per year over the next five years through 2016-17.
"Unlike the wine production industry, local beer brewers produce almost exclusively for the domestic market. This has compounded the effect of declining alcohol consumption for brewing companies," said Andrew Ledovskikh, IBISWorld senior industry analyst.
Domestic beer consumption has been hit hard by an increased health consciousness among consumers and as popular domestic brands decline it presents further challenges to local beer manufacturers looking for growth.
Meanwhile winemakers with greater exposure to export markets have found new growth particularly in Asian markets.
"Domestic per capita consumption of beer, wine and spirits has slumped to a 55 year low, largely as a result of government legislation and increasing health consciousness among consumers," said Ledovskikh.
"Rising exports to Asia are anticipated to drive export growth over the next five years. Free trade agreements signed with Japan, South Korea and China in 2014 and 2015 are expected to lead to new growth in Asian export markets, as Australian wines become more competitive.
"Rising middle class incomes in China are also expected to contribute to strong demand growth over the next five years. As a result, China is anticipated to overtake the United States as the largest importer of Australian wine.
"Despite declines in per capita wine consumption, the wine production industry is expected to increase by an annualised 2.3 per cent over the five years through 2016-17. Strong demand growth from Asia is improving world prices and easing global oversupply issues, which have plagued the industry over the past decade."