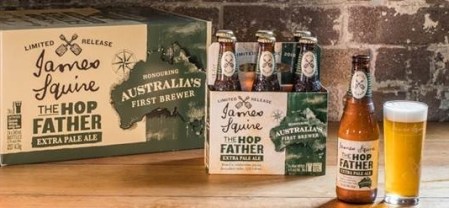 James Squire have released the Hop Father XPA, a hopped up pale ale that pays homage to Australia's first brewer.
Announced late last year, and now in its second year, the limited edition Hop Father has become an annual fixture on James Squire's beer release calendar.
Seven descendants of James Squire and brothers Ben, Matt and Chris Cooper got together at the Malt Shovel Brewery in Camperdown and decided to give this Aussie favourite a little extra punch for the Hop Father's 2018 release, landing on a thirst-crushing hopped up pale ale.
Haydon Morgan, Head Brewer at the Malt Shovel Brewery in Camperdown, said the brewing team were excited to welcome in a new batch of James Squire's living descendants, who share his passion for the perfect brew and collaborate on a beer that has such a special meaning to the brand's legacy.
"This year's tribute to the Hop Father of Australian brewing comes in the form of a refreshing hopped up pale with a little extra hoppy punch – it's a celebration after all.
"Dry hopped with Denali and Eureka, this hopped up pale showcases citrus and pine notes with a subtle pineapple aroma – perfect for summer festivities."
Matt Cooper, one of the brothers behind the brew, said that it was pretty special to walk in James Squire's shoes for a day, co-creating a beer that celebrates his great, great, great, great, great grandfather.
"It's not every day you get to brew a beer with your brothers in what was truly a family affair. The best thing about being involved in the brewing process was that we weren't just pushing random buttons at Malt Shovel; we were actively involved in the mash, adding the hops and even got to pick a bottle straight off the bottling line," he said.
James Squire Hop Father XPA is available now in pack at Dan Murphy's stores nationwide and on tap at James Squire Brewhouses.