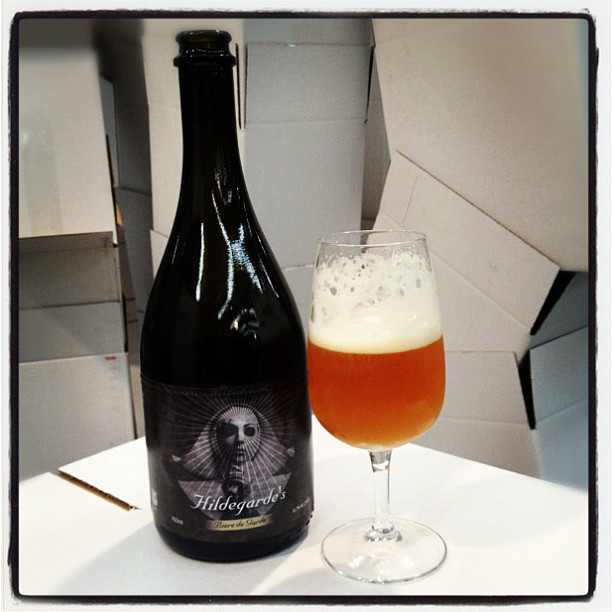 All Australian, all female, collaboration beer is hitting selves around the country as The Women of Beer collective presents Hildegarde's Biere de Garde.
Congregating again from all over the country, The Women of Beer collective has created a limited edition beer, brewed at the Matilda Bay Port Melbourne Brewery.
The all-female crew included the talents of Matilda Bay's Chloe Lovatt, CUB's Aine O'Hora, Old Salt's Sam Füss, Red Hill's Karen Golding, Two Birds' Jayne Lewis, Hargreaves Hill's Beth Williams, Beer Girl Bites' Tiffany Waldron and the Beer Diva, Kirrily Waldhorn.
The beer itself, brewed on October 7, is a rustic Biere de Garde, weighing in at 6.7% ABV and packaged in stylish 750mL bottles.
As well as a lot of love, specialty ingredients in the brew include French hops – Strisselspalt and a new breed hop called Triskel. French oak chips were also included to add a hint of wood. The final product in described as a coppery coloured Farmhouse Ale with a delicate hop character and a touch of oak on the palate.
The beer is also named after Hildegard von Bingen, a nun, scribe, composer and feminist credited with being the first to inscribe the preservative power of hops and the inspiration for this brew.
Proceeds of this brew will be put towards a number of initiatives to support women in the Australian beer industry by way of the Australian Pink Boots Society.
The brew was created with the support of donors including Matilda Bay, Grain & Grape, Bintani, Cryer Malt and Pemara Labels.
Launched today, 13 November, Hildegarde's Biere de Garde is now available as a limited release in cases (6 x 750ml) and kegs (50L).
info@northdown.com.au


Images care of Beer Girl Bites on Instagram.