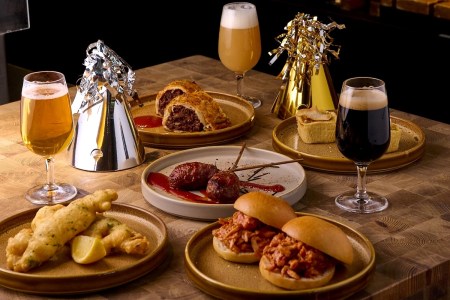 Whilst Deeds Brewing will celebrate a decade of existence this Saturday it feels like they've packed a lifetime of achievement into the last few years alone.
After finally securing approval to build an on-site taproom and kitchen at their brewery in Melbourne's South East back in 2020, the good deeds have kept coming since as their bespoke Glen Iris dream home is now a stunning representation of their brand, the aggressive production schedule they first initiated in the early stages of COVID-19's impact has been maintained while they've even found time to launch a mixed culture series.
After all that, one can imagine the Deeds team have earned a birthday beer or 10 and you can join them at their brewpub for a very special celebration this Saturday.
At either a day or night session you'll get the opportunity to walk down the brewery's memory lane and experience 10 of their iconic beers that span their decade-long journey.
With a separate station dedicated to each of the beers, guests will be able to explore the Glen Iris taproom at their leisure and discover the story behind each of the releases.
A ticket includes a glass of each of the 10 beers with food to match where the likes of imperial stout braised beef cheek, steak and porter sausage rolls and dark bourbon chocolate smoked salt marquise will be on offer.
Help celebrate 10 years of Deeds
Deeds Taproom & Kitchen
4 Paran Place, Glen Iris, 3146
Day Session: Saturday August 20th 12pm – 5pm
Night Session: Saturday August 20th 6pm – 11pm
Price: $100pp
To purchase tickets and for more information head here.