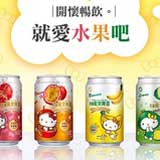 For Japanese superbrand Hello Kitty, the mass production of terminally cute things for kids has been massively successful. If you can think of a product, it's odds-on that parent company Sanrio has slapped the Hello Kitty moniker on it at some stage. The brand turns over close to $800 million a year, with everything from pencil cases to undies, laptops to cosmetics on offer.
But the latest release from the Hello Kitty stable has raised a few eyebrows around the traps – and even we were surprised to see that Hello Kitty beer is now available. Brewed by Taiwan Tsing Brewing Company, the Hello Kitty brews are low-alcohol (2.5 – 2.8% ABV), fruity beers in typically Asian flavours – including lemon-lime, peach and passionfruit.
The thinking is that these beers will turn a generation of Chinese women into beer drinkers – and, while its definitely not being marketed to children, it's still unashamedly grabbing for the female market.
As tough as this is to believe, it's not the first time Hello Kitty has appeared on a beer – the brand teamed up with Becks in 2009 for a one-off pink label – but it is the first time that Hello Kitty has gone all out with a standalone product launch into the adult beverage market.
No word on whether we'll be seeing Hello Kitty beers on sale in Australia any time soon… but if it does crop up here, we'll be the first to let you know.