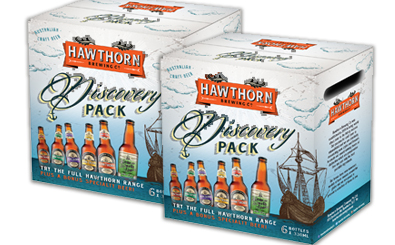 Hawthorn Brewing Co. has launched its first mixed six-pack, called the Discovery Pack.
The pack includes Hawthorn's Pale Ale, Golden Ale, Pilsner, Amber Ale, Australian IPA and New World Lager.
Laid out in the order the beers should be tasted, the pack also includes tasting notes and food pairings.
"We've been asked for a long time when we would bring out a mixed pack or have a gifting option; well now it's here. It's an exciting offering for Hawthorn Brewing as it appeals to those new to craft who were perhaps hesitant to buy a six-pack of a new style. With our Discovery Pack, buyers receive one bottle of each of our beers to taste, share and comment on," explained Hawthorn Brewing Co. co-founder, Peter Willis.
"The pack also contains all the information consumers need for each beer, including food pairings. The hope is that this introduces new consumers to the craft beer journey, and they will then explore further for styles and flavours that they like.
"The pack also has appeal for our loyal customers as it contains our latest Brewshed Collection limited release beer, New World Lager, which has generally not been available outside of Victoria."  The Hawthorn Discover Pack is available nationally for RRP $23.99 while stocks last.