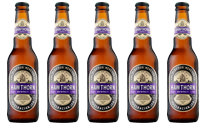 Hawthorn Brewing Co has announced the release of the fifth beer in their line-up: an Australian IPA.Having released the beer as a limited keg run in winter 2012, General Manager Peter Willis says that the team were encouraged by the enthusiastic reception the brew received.
"The response told us that there was a wider market for our IPA," he says. "And so it made absolute sense to make this a bigger release, both in kegs and packaged."
Chief Brewing Officer, Hamish Reed, has apparently promised HBC fans that the beer will have "a big taste and plenty of hoppy bitterness, with a uniquely Australian spin on an old favourite".
Using five locally grown malts and four Tasmanian hops the beer is truly an Australian version of the original English style.
Willis says that the brew slots in well with the rest of the brews in the portfolio.
"It's important to offer a wide taste profile to give our customers options," he says. "The IPA is certainly at the upper end of beer favours/bitterness [with an IBU of 63] so will appeal to those wanting the "big beer" experience, whereas the Pilsner for example is lighter flavoured and easy drinking so will appeal to those perhaps taking the first step into the world of craft beer. It's all about having a diversity of products to suit the consumer"