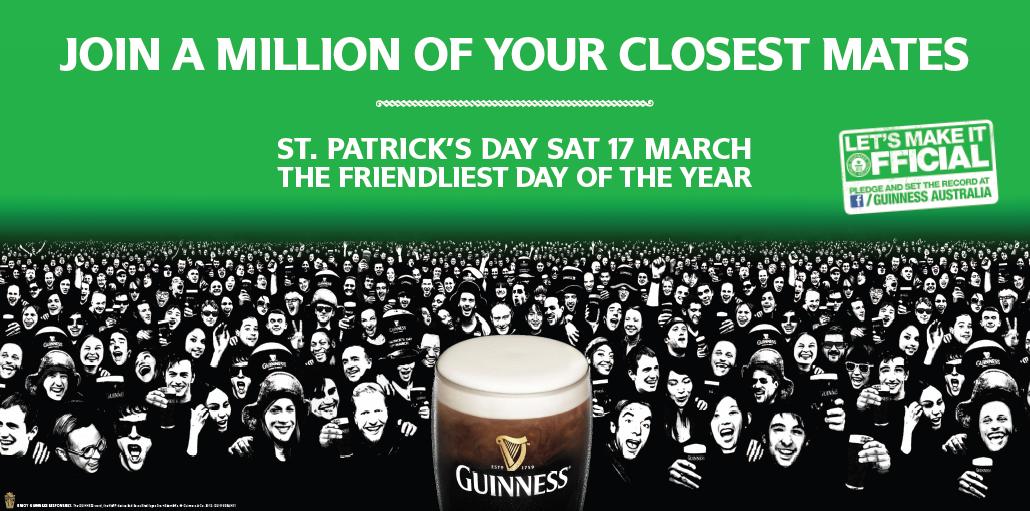 The Black Stuff aims for a world record in 2012
St Patrick's Day has long been recognised as a day of fun, friends and spontaneity and in 2012 Guinness plans to officially list Ireland's most festive celebration as the Friendliest Day of the Year in the Guinness Book of World Records. In a global digital campaign that will run from mid-February through until 17 March, the brand will be encouraging over one million fans around the world to either pledge their support via their local Guinness Facebook Page or by heading down to their favourite pub and celebrating on St Patrick's Day.
The Friendliest Day of the Year campaign aims to drive traffic into the on-premise and increase sales in the lead up to and on St Patrick's Day on 17 March. From mid-February, Australian fans can ensure they contribute to the success of this momentous global mission by either logging on to the Guinness Australia Facebook page and 'Pledging' their support using the Friendliest Day of the Year Application, or by heading along to their favourite Guinness venue on St Patrick's Day and raising a pint to celebrate. In order to set the world record, Guinness will then tally up the total number of people who participated in these international celebrations. If the final figure reaches one million, St Patrick's Day will officially be declared as the Friendliest Day of the Year.
Australian pub-goers consume over one million pints of Guinness Draught on St Patrick's Day, with 15 per cent of Guinness sales volume for the year consumed during the month of March alone[Diageo internal sales data]. The Friendliest Day of the Year global digital campaign aims to further boost brand awareness and drive Guinness consumers into venues on St Patrick's Day, strengthening the brand's alliance with Ireland's most famous celebration and increasing sales of Guinness for on-premise retailers.
To help drive excitement and generate venue traffic in the lead up to St Patrick's Day, from 1 March 760 venues Australia-wide will be taking part in the Guinness St Patrick's day activation plan. By either utilising the specially-created Visibility Kits containing banners, staff t-shirts and tattoos and balloons, or helping to drive sales on the day with Guinness St Patrick's Day pint hats and flags, retailers have the opportunity to reward consumers with an authentic and exciting St Patrick's Day experience with Guinness.
Additionally, the lead up to St Patrick's Day is a great opportunity for on-premise customers to activate a 5 C's Session. Offered throughout the year, the 5 C's Sessions train bar staff on how to pour the perfect pint of Guinness using the 5 C's:

Correct gas mix and pressure (30 per cent CO2, 70 per cent nitrogen)
Consistent temperature (Serve at two to four degrees, store at two degrees)
Clean beer lines and spout (Clean lines at least every two weeks and soak spouts overnight in soda water)
Correct and clean glassware (the contemporary Guinness-branded harp glass has been specially created to enhance the perfect pint experience and is available Australia-wide)
Crafted presentation (tilt glass at 45 degrees, let surge and settle with first pour, push tap back on second pour, serve to the rim with no overspill).
With 94 per cent of consumers stating they would return more often to a pub pouring a great pint of Guinness and most stating they would recommend it to at least four of their mates [Internal survey of Guinness Black List Members], serving the perfect pint forms an essential part of sales uplift both on and beyond St Patrick's Day.
Matt Bruhn, Marketing Director for Diageo Australia says, "Thanks to the success of the Black List and Black List App digital campaigns in 2011 where thousands of consumers were encouraged to go online and rate their favourite Guinness venue, we believe consumers will embrace the concept of the Friendliest Day of the Year pledge on Facebook. Guinness is synonymous with St Patrick's Day and we have no doubt this exciting social media campaign will not only make the Guinness Book of World Records but will leverage the best sales period of the year for Guinness in Australia."
GUINNESS, Ireland's original craft beer
When Arthur GUINNESS signed a 9,000 year lease on his St. James' Gate brewery in 1759, he began a brewing legacy that would truly stand the test of time. GUINNESS is now brewed in over 50 countries and is enjoyed in 150 countries around the world, with
approximately 10 million pints of the iconic beverage enjoyed every day
across the globe. With over 250 years of brewing experience under its belt, GUINNESS has a maturity and worldliness that many other craft beers lack. The famous colour, creamy head and powerful surge-and-settle pouring process are some of the elements that make GUINNESS the original craft beer.
For further information about GUINNESS go to www.GUINNESS.com.au and www.facebook.com/GuinnessAustralia.
About Diageo
Diageo is the world's leading premium drinks business with an outstanding collection of beverage alcohol brands including Bundaberg Rum (Australia), Smirnoff vodka, Johnnie Walker Scotch whisky, Baileys Irish cream liqueur and Guinness beer. Diageo is a global company, trading in more than 180 markets around the world. The company is listed on both the New York Stock Exchange (DEO) and the London Stock Exchange (DGE). For more information about Diageo, its people, brands, and performance, visit www.Diageo.com. For responsible drinking through the sharing of best practice tools, information and initiatives, visit www.DRINKiQ.com. Celebrating life, every day, everywhere.