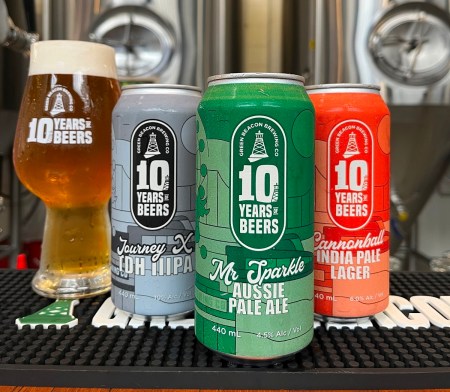 To mark its 10th anniversary Green Beacon are releasing 10 new birthday beers as part of its year-long celebrations.
Founded in 2013 by schoolmates Adrian Slaughter and Marc Chrismas before Asahi purchased the company outright six years later, Green Beacon said the already released limited edition birthday beers pay homage to their past and include riffs on previous releases.
The first four debuted at its Teneriffe brewery late last month and three of them will be pouring at their 10 Years of Beers birthday party at Brisbane live music venue The Tivoli on February 18 where bands Redland Bay rockers and Beddy Rays will headline alongside other local acts.
"Green Beacon started making new and different beers and built this (Brisbane craft beer) community around that, giving people a glimpse behind the curtain of how beer is produced, something they didn't have access to before," marketing manager Brad McClelland said. "That really led the way in inspiring other brewers, giving them confidence and showing them there was a market for craft beer and there are now so many amazing breweries in Brisbane."
Ticketholders to the 10 Years of Beers event will be able to get their hands on the Mr Sparkle Aussie Pale Ale (4.5%), made with all-Australian grown malt and hops which Brad said "pays respect to a style of beer that sits at the very heart of our industry".
Also pouring at The Tivoli will be the Cannonball India Pale Lager (6.0%) which takes inspiration from their core range Grappler Lager that was originally developed as an IPL, and the POG IPA Passionfruit Orange Guava Milkshake IPA (6.5%) with lactose and vanilla to give it a birthday cake-like character.
A fourth beer, the Journey X TDH IIIPA (10.0%), is only available at Green Beacon's brewery and in selected retailers.
Grab tickets to Green Beacon's birthday bash at The Tivoli here.