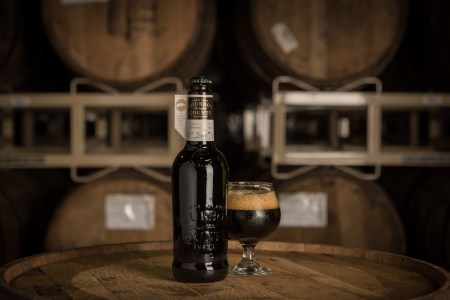 On Wednesday 21 March, Goose Island will be putting its last 12 bottles of Bourbon County Stout under the hammer in a Facebook Live beer auction.
Broadcast from Melbourne's Beermash, the auction will allow beer lovers over the age of 18 to bid on the beer in real time through Goose Island's Facebook pgae, with the winners declared live. All proceeds raised will go to Pink Boots Society, an organisation empowering women in the beer industry.
The beer, which was first brewed in 1992, is aged in bourbon barrels from Kentucky.
"Today, while it now seems every craft brewery has adopted a barrel program, the legendary status of the Bourbon County Stout ensures its enduring appeal and place within the beer world," says Mick O'Rance, brew master Goose Island Australia.
The auctions will be hosted by Ale of a Time's Luke Robertson and Goose Island's Tiffany Waldron. As well as the 12 auctions, there will be feature commentary on the beer, with users able to submit questions to the hosts online.
"This is going to be a fun and unique way to get your hands on our last few bottles of the world's best bourbon barrel aged beer (well I think so anyway!)," says Waldron. "All while spending time chatting with Luke and I, plus sharing the story of Pink Boots Society and raising money to support scholarships to empower more women in the beery industry."